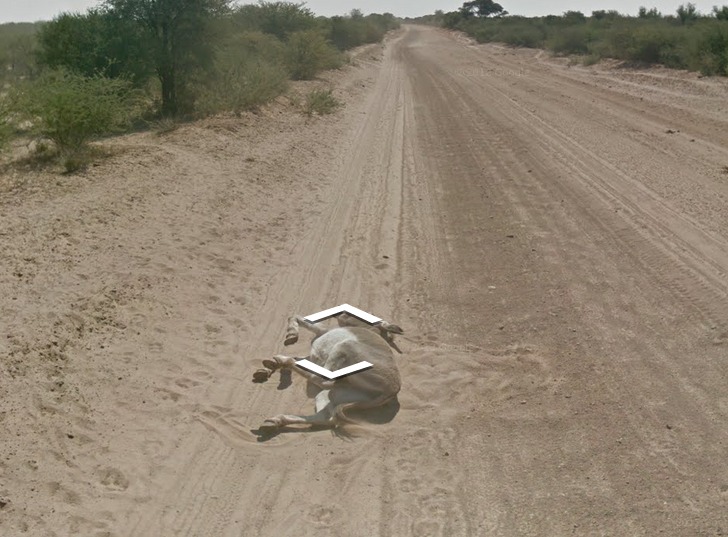 Even as Facebook debuted a rather snazzy, creeper-friendly new search feature, market leader Google was facing a bit of awkward press. That's because Australia's Courier Mail has released a piece of investigative tech journalism which demands to know: Did a Google Street View car run over a donkey in Botswana?
Let's look at the evidence.
The Courier Mail points to a Street View image spotted by an eagle-eyed Twitter user, which appears to show a donkey lying dead on a deserted dirt road in Botswana. The paper reached out to Google, but the company denies the accusation. Rather, Mountain View says that the donkey was lying on its side as the Street View car approached and, as the car bore down, stood up and trotted off.
"Our Street View teams take the safety of people and donkeys very seriously," a spokesperson insisted to the Mail, adding that, "A review of our imagery confirms that we did not cause any harm to the donkey."
The Courier Mail, however, is skeptical, arguing that "The problem with this version of events is that – based on the images – it appears as though the donkey is walking backwards." In almost forensic detail:
The image – captured from the front camera of the car – featured the donkey lying down, in between two fairly prominent tyre marks. The second image shows the donkey getting up. The third image shows the donkey standing off and to the left, metres behind where it fell. The fourth image shows the donkey even further back and to the left. Google claims the photos show the events in the order they occurred.
"This version of events seems to make no earthly sense," insists the Courier Mail.
We agree that there are oddities in this story. However, we're going to tentatively side with Google on this one. Presumably, hitting a donkey with a compact car would create a bit more gore.
UPDATED 1/16/2013: As the furor over Schrödinger's donkey has spread across the Internet, it seems Google felt compelled to respond yet again to accusations of pack animal vehicular homicide. Today the Google Maps blog has been updated with a post titled, "Never Ass-ume." It features several more images capture by the Street View car and denies, yet again, donkey-cide:
As our imagery below shows, the donkey was lying in the path – perhaps enjoying a dust bath – before moving safely aside as our car drove past. I'm pleased to confirm the donkey is alive and well.
The photos seem to settle the matter conclusively, but if there's one thing we've learned from the Internet, it's that a good conspiracy theory never dies.