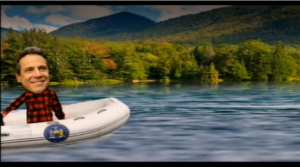 Earlier today, Governor Andrew Cuomo gave his annual "State of the State" speech where he presented a broad plan to transform the state through various legislative measures and executive actions. Once such action that Mr. Cuomo seemed particularly pleased with was his plan for a new whitewater rafting challenge in the Upstate Adirondacks.
"I believe if they see Upstate New York, they will come back, but we need to make that happen," Mr. Cuomo said of the region's tourism capability. "For example, New York has some of the best whitewater rafting in the nation, I bet you maybe that you didn't even know that. So this year, we're going to sponsor a national rafting competition called, 'The Adirondack Challenge.'"
While Mr. Cuomo didn't elaborate on the event's specifics, he did proceed to jokingly promise Albany's legislative leaders will be getting in on the rafting action.
"We are going to have a special part of the Adirondack competition, which can be between government officials," he continued. "And we're going to start a politician division, actually. We're going to have a set of rules that were very carefully drafted and reviewed by [the state's] counsel."
Mr. Cuomo's "rules" for the political rafting poked fun at state government's occasionally contentious, divided atmosphere where Democrats control the State Assembly and a mostly-Republican conference rules over the State Senate.
"First rule, you must have at least six people in the rafts. The teams must be co-ed, preferably even divided," he continued as the audience laughed. "Rafters must be bona fide government employees for at least six months and they must have been hired before today. All rafters must paddle, no freeloaders. This is not government. Identical rafts and identical equipment will be provided among the teams, of course, except for necessary security reasons."
To illustrate the different components of the competition, Mr. Cuomo showed comical images that placed Speaker Shelly Silver and the Senate's bipartisan co-leaders, Dean Skelos and Jeff Klein, on rafts.
"There will be a number of challenges. The first challenge will be the 'Executive to the Assembly Challenge.' Assembly Speaker Sheldon Silver, avid outsdoorsman, mountaineer, will be the captain of the Assembly raft if he so chooses. Next challenge will be the Senate challenge with co-leaders Skelos–" Mr. Cuomo explained, letting the audience's laughter interrupt him before he said Mr. Klein's name. "Guys you have to paddle the same way! Guys, paddle the same way."
Mr. Cuomo also mocked himself and Mayor Michael Bloomberg, who was in attendance at the speech, with additional slides in the presentation.
"We'll have a New Year's Day, New York City and we have the S.S. Bloomberg. Mayor Bloomberg always looks good doing whatever he's doing," he said. "I will have my own team. I will have my Brawny paper towel shirt that I'm wearing. I will have an identical raft that is identical in all ways except the state police insist that because I respond to so many emergencies on such a frequent basis now, my raft needs an engine. Otherwise it'll be the same."
He concluded, "That will be the Adirondack Challenge, it is scheduled for this year. I hope that the challenge is accepted and I hope that we are all successful."