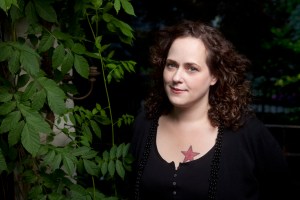 Rosie Schaap is a born regular.
The Drink columnist for The New York Times Magazine and author of the new memoir Drinking with Men (Riverhead, 288 pp., $26.95), Ms. Schaap has a gift for camaraderie—and excellent taste in booze. She's also become the book industry's resident bartender, if publishing holiday parties are to be believed (she mixed drinks at PEN's bash in 2012), and judging by the often-bookish crowd at South, the Brooklyn dive where Ms. Schaap works day shifts.
Drinking with Men roves from Metro-North bar cars to rural Vermont to Dublin, describing the many pint-glass microcosms Ms. Schaap has found herself a part of thanks to her affection for a neighborhood haunt. It would be hard to call a Times columnist an outsider, but she does bring an uncommonly friendly face to New York's insular book scene.
"She's always been a part of this bigger literary community that doesn't necessarily fit into the neat Park Slope package," said novelist Jami Attenberg, a friend who first met Ms. Schaap at now-defunct Lower East Side bar Good World, one of the establishments described in the memoir.
And while there's an easy appeal to pairing booze and prose—and certainly no shortage of real-life case studies—Ms. Schaap's story mostly dodges hard-living artist clichés.
"For me, drinking and writing have never gone together that well," Ms. Schaap, who turns 42 this week, said to me, adding that she was only able to get serious about writing when she got less serious about drinking.
And yet: "The intersection of writing and bar culture is so natural," said novelist Kate Christensen, another friend. "Writing is an extension of talking, and talking happens in a bar."
So I went to South Slope, where Ms. Schaap lives and works, to see a regular in action and do some talking in bars.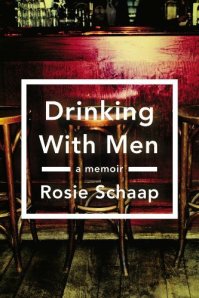 Narrow and snug, far enough afield that it's not a destination for outsiders or a convenient stop for commuters, South is filled with regulars. Ms. Schaap works the day shift on Tuesdays. It's mostly a beer and whiskey place, but word has gotten around that Ms. Schaap makes a fine cocktail, and as soon as one person at a bar orders a Manhattan, someone else is bound to decide against PBR. I asked Ms. Schaap to estimate how many of the people in the happy hour crowd she already knew. She paused to count.
"Three-quarters," she said. That included some staff, but staff members hanging out off-duty are a good sign for a bar. Most of her co-workers are younger, lots are musicians, and a couple are transplanted Dubliners. One of the young Irish barbacks has to leave the country soon, but she's already scheming to bring him back. She's trying to talk him into journalism school and a student visa—she wants to make an "old-school" city reporter out of him.
"Just what these young Dubliners need," she said, "is a pushy Jewish mother."
Ms. Schaap's own mother was a would-be actress, and her father was Dick Schaap, the prolific sportswriter and longtime ESPN host. Peter Falk, as in Columbo Peter Falk, introduced the pair. They split up when Rosie was 7, and her dad was often absent. But he served as an example, "a real worker-writer."
"I grew up with this idea of a writer as someone who sat at a table—at that time, at a typewriter, a massive IBM Selectric II—and wrote all the time," she said. "There was no real mystery or romance. It's a job."
And if her father set the example for writing, her mother set the example for talking.
"To everybody," Ms. Schaap said. "You know, if we were waiting for a table in a restaurant, my mother would tell the maitre d' that she'd seen the gynecologist that day."
She and her mother did not always get along, but one of the book's surprises is her mother's impressive gameness in the face of teenage rebellion. Rosie drops out of high school and leaves home to follow the Grateful Dead on tour, and while her mother's not exactly thrilled, she doesn't disown her. She makes Rosie agree to get her GED, and checks up on her via her psychoanalyst. Ms. Schaap is at least a fourth-generation New Yorker, she points out, so naturally the psychoanalyst had been around since she was a teenager. Ms. Schaap said she knew she wanted to leave home the first time she saw the Dead.
"I understood that it was a ready-made, traveling community," she said. By her first show in 1986, when she was 15, the band was already past its peak, but it didn't bother her; that was only the music. "I was mostly there for the people," she said.