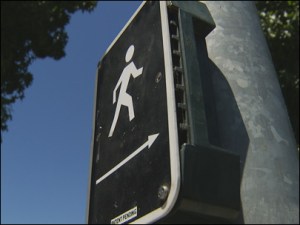 Last week, angry Upper East Side residents sounded off at Community Board 8 meeting. The cause of the controversy? Noise pollution from audible crosswalk signals that help blind pedestrians cross safely.
Residents argued that the crosswalk signals would exacerbate the existing "noise pollution" of the Upper East Side and amount to a waste of money, according to DNAinfo.
There are 48 of these audible crosswalks at intersections all over the city.
A DOT liaison said the sounds would not be as conspicuous as the crosswalk at East 59th and Lexington Avenue. They adjust according to street noise, according to DNAinfo.
Critics questioned the very existence of blind pedestrians. At the CB8 meeting, Peter Renehan said "I've never once seen a blind person cross the street by themselves. These people are assisted because we are a neighborhood. We don't need more noise to assist people to cross the street."
Renehan also told DNAinfo: "At 2 or 3 in the morning, how many blind people do you see walking down the street in our neighborhood?"
"This is just horrible," Dr. John Jacoby, said. "We can't sleep enough on this corner already."
Others argued that the audible crosswalks would make crossing the street more dangerous for the visually impaired. "I think we're sending them into a problem. If you send a sight-impaired person from north to south or south to north, you're not taking into consideration that cars are turning in," board member Rita Popper told DNAinfo.
The Observer reached out to several city advocacy groups for the blind or visually impaired to see if they agreed with residents' reading of the situation.
Karen Gourgey, Chair of PASS Coalition, and is totally blind, said there's a misconception that blind people only appear around certain places.
"We have jobs, or we good to school, or we go to shows and all around the city," she explained. "If you all who have 20/20 vision are getting enhanced safety information don't you think it might be important to emphasize to us, who might have reduced vision or no vision, to have a walk sign as well?"
Ms. Gourgey said that blind pedestrians shouldn't have to rely on others.
"Even in Manhattan, you can't assume that there's always going to be someone there. Somebody's life should not be dependent upon that."
The president of the American Council of the Blind of New York, Pratik Patel, who is totally blind, said he crosses Upper East Side streets all the time.
Mr. Patel said that they requested more audible signals because the changes that made the city friendly to bike lanes and traffic flows created more difficulties for blind pedestrians.
He said residents' uninformed comments hurt the perception of the blind community and don't elucidate the public's understanding of the difficulties of traveling independently.
Both Ms. Gourgey and Mr. Patel said they would be happy to explain the need for audible crosswalks to residents.
"We want to be in dialogue with everyone and make them understand and at least hear our views," Patel said.
Chuck Warren, co-chair of the Transportation Committee, said they will hold another meeting in March and open discussion with advocacy groups.
The DOT issued this statement via email: "Safety is DOT's top priority, and the agency always welcomes discussions with communities across the city to make streets even safer for everyone."
As of now, there are no plans to install audible crosswalk signals on the Upper East Side.