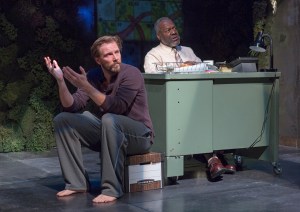 Settling in to watch Water by the Spoonful, Quiara Alegría Hudes's complicated but neat play about family, drugs, Iraq and a few other things, one must reckon with an unavoidable question: why did this win the Pulitzer Prize?
Ms. Hudes's play won the prestigious award last spring for its 2011 debut at the Hartford Stage. The production that opened Jan. 8 at the Second Stage Theatre, directed, as in Hartford, by Davis McCallum, is Water by the Spoonful's New York premiere.
It's not impossible for a play to win the prize without being seen in New York—the only requirements are that it must have an American author, a subject dealing preferably with American life and a U.S. debut in the previous year; Nilo Cruz's Anna in the Tropics had played only Coral Gables, Fla., when it won the Pulitzer in 2003. But it doesn't happen terribly often, and when it does, it loads the play with expectations upon its arrival here. The question is not asked antagonistically—why did this win?—but rather interrogatively: what will we see here that made this a winner?
Water by the Spoonful offers some obvious answers. It is smoothly constructed, employs some nontraditional theatrical elements—staged online chats!—and is a play about Contemporary American Issues, capital letters intended. It is about family loyalty. It is about the cascading ravages of addiction. It is about the Internet as meeting place. It is about the difficulties facing returning war veterans. It is about class. It is about the importance of human connection.
Elliot (Armando Riesco) is an Iraq vet recently returned home to his sprawling Puerto Rican family in Philadelphia. He was discharged after a leg injury that has left him in chronic pain; he aspires to be an actor or model and picks up some work here and there, but mostly he's stuck slinging hoagies at Subway. His closest friend is his cousin Yaz (Zabryna Guevara), the one who made good: a scholarship student at a prep school, she's now an associate music professor at Swarthmore, but with a marriage—to a white man of the prep-school world—that is collapsing. Elliot lives with their (unseen) Aunt Ginny, who raised him and is dying; his real mother, Odessa (Liza Colón-Zayas), a former crack addict, runs a online support group for other recovering addicts.
Estranged from her own family—at the height of her addiction, she allowed her sick infant daughter to die, and Elliot has never forgiven her—Odessa, under the screen name "Haikumom," has become a nurturing, supportive den mother online. She banters with and counsels "Chutes&Ladders" (Frankie Faison), a middle-aged IRS clerk in L.A., himself estranged from his family, and "Orangutan" (Sue Jean Kim), a high-energy recent college grad, raised in Maine, who has traveled to Japan to find her birth parents. Into their group comes "Fountainhead" (Bill Heck), a wealthy former tech exec with a yellow Porsche, a wife and kids, and two years of addiction.
It is through Odessa, and Philadelphia, that these worlds intersect (Fountainhead lives on the Main Line, natch), though the play's slow, careful exposition—alternating scenes in Elliot's real world and Odessa's online one—doesn't bring them together till the second act.
As it does, and especially when it does, Ms. Hudes's plotting can feel a touch mechanical. Of course Chutes&Ladders and Orangutan will finally meet in person and take some solace from each other. Of course someone will overdose. Of course Fountainhead will stop being a Randian ass and be there for Haikumom when she needs him. Of course Yaz will realize that she'll always belong in the North Philly barrio. And of course Elliot, after Ginny's death, will figure out how to move on with his life.
That's not to say the play isn't well-crafted, nicely acted, interesting and even sometimes moving. But it does make it less moving than you'd like it to be, less affecting, less likely to stay with you. Water by the Spoonful is a good play, certainly, even a very good one. What makes it a Pulitzer winner? That the Pulitzer jury and board said so. That's both tautological and true, and it speaks to the inherent ridiculousness of paying too much attention to whether one piece of writing was named the best.
editorial@observer.com