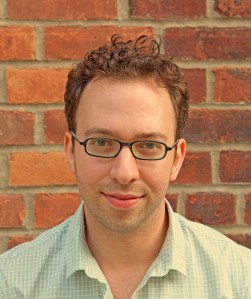 Teddy Wayne is an iconoclast, at least when it comes to sandwiches. At the Times Square Hard Rock Cafe (his choice) to discuss The Love Song of Jonny Valentine, his novel about a prepubescent pop star, Mr. Wayne looked over the list of so-called "Legendary" burgers.
"Everything here is legendary," he said. I suggested that the Hard Rock Cafe was a pretty venerable institution—remember all those T-shirts? "No, I feel like from the first day it was legendary. They created their own legend."
Mr. Wayne, 33, had asked to meet at the Hard Rock in order to draw inspiration from the musical artifacts on the walls. He also wanted to nosh on a burger, the favorite food of Jonny Valentine, the 11-year-old protagonist of his new novel. Described as an "angel of pop," Valentine is younger and less stratospherically successful than Justin Bieber, but a pretty clear stand-in for the Canadian singer. (It turned out the Nirvana memorabilia on the walls of the Hard Rock didn't have a whole lot to do with Jonny's tale.) The fictional child star is not a music lover, but rather more of a tactical, strategic marketer of his own brand.
"I'm a music fan, but I noticed that most literary novels about music are almost invariably about good music," said Mr. Wayne. "Understandably, most novelists would not want to spend two or three years writing about music that's bad."
Mr. Wayne passionately pursues subject matter that most people would consider weird. His only previous effort, Kapitoil, sidesteps the first-novel roman à clef trap and tells the story of a Qatari computer engineer working in oil futures. His "Shouts & Murmurs" columns for The New Yorker are bizarro-
world fantasies about Dick Cheney, Shakespeare and Don Draper rather than the usual commentary on the foibles of wealthy, idle Manhattanites.
"Why not take a chance with subject matter once in a while?" he said. "I have no interest in writing a book about the fraying tensions in a dissolving marriage."
The new book, told over the course of a few stops on Jonny's "Valentine Days" national tour, depicts the building pressures on a boy who thinks he knows everything about contemporary music stardom ("The trick, I learned from the guitarist on my first tour, is to focus on a vendor, since the vendors never care about you," Jonny thinks during one of his concerts). Offstage, Jonny must confront an absentee dad, hard-drinking tour mates, and his manager and mother Jane Valentine, a controlling, coke-snorting but not entirely despicable woman who is a melange of every Us Weekly nightmare of the past decade. Jonny's career is in danger. So is his sense of self. Then again, the two are interchangeable.
For a person who invested years into a book about a bubblegum pop star, Mr. Wayne is not particularly enthused by the music of Justin Bieber and his ilk. He doesn't own any of Mr. Bieber's records. For research, he said, "I'd listen to the music on YouTube. I read a lot of child-star biographies and autobiographies, like Drew Barrymore's Little Girl Lost and Tatum O'Neal's Paper Life." He was also inspired by The New Yorker's 2012 profile of Ester Dean, the songwriter largely responsible for Rihanna's meteoric rise. "It shows you how unjust the world is, that the one who's actually the songwriter doesn't get the credit," he said.
Jonny Valentine is self-possessed onstage but thrown into confusion in his life by the sort of family drama and earthly temptation that seem to await every pop star eventually. Mr. Bieber is the natural analogue, though Mr. Wayne doesn't consider him to be all that flawed yet. Mr. Bieber is, Mr. Wayne observed, "18 now, and soon he'll start going to nightclubs and bars and dens of iniquity—but he seems to have his head on straight. What if someone were in a position like that but were not self-sufficient? Jonny Valentine does what most of us would do—his insecurity, self-doubt and fear, and not viewing it as a fun, wild ride."
Teddy Wayne has all the classic trappings of a rising novelist—the clips from Vanity Fair, The New Yorker and The New York Times (as well as this newspaper), the Whiting Writers' Award, the gig teaching creative writing in town (at Marymount Manhattan College). But the finer points of late-publishing self-promotion have so far escaped him. "I think I've tweeted this—the initial shame of being on Twitter is compounded by the shame of not having any followers," he said. "Nothing I tweet ever takes off. I'm hopeless on Twitter." Like a frontier American confronted with the new technology of the camera, he fears for his soul. "Every time I tweet, a little part of me dies."
But he isn't chasing after the fame of Jeffrey Eugenides or Jonathan Franzen, let alone that of a pop star. "I went through what just about every writer goes through when the first book comes out, which is the shock of a Word document becoming a public book. It makes you very vulnerable. I started wondering, how do actual celebrities deal with it? If I'm getting this worked up over a bad Amazon review, how would you deal with the tabloids?"
Mr. Wayne deals with them quite well, in his writing anyway. In the novel's metatextual gossip columns, he jumps styles with ease, mimicking Gawker-style bitchiness ("As if we needed confirmation that Jonny Valentine concerts are attended and exclusively by lovelorn prepubescent girls and rapey old men, the St. Louis Post-Dispatch is reporting that a 57-year-old St. Louis man was arrested after hurling a slew of violently sexual epithets at the Angel of Poop Pap Smears Pop during his live televised performance …"), self-serious music critics ("Exactly how does a 46-year-old male music critic open a review of a Jonny Valentine concert he is forced to attend? And to maintain proper journalistic house style, must he really refer to an 11-year-old boy hereafter as 'Mr. Valentine'?") and the basest tabloid fodder ("Send an RSVP to your local arena: Jonny Valentine is cruising into your city!").
Mr. Wayne says he is repulsed by self-promotion, even as he riffs on it. "Let's chalk it up to a late-capitalist contradiction." (In the novel, Jonny is too young to manage his social media presence, so his mother does it for him.) He objects to "non-
celebrities like us putting photos on Facebook of ourselves drinking and partying. That's our own paparazzi. We're paparazzi-
ing ourselves." (Mr. Wayne's Facebook has all of three photos uploaded, but he may have only granted The Observer access to a limited profile.)
Though Mr. Wayne has limited interest in Bieber qua Bieber, he is attracted to the mechanics of fame, having initially conceived of Jonny Valentine as a comic novel when he saw a girl at 826 Valencia (where he tutors) reading Miley Cyrus's memoir. "It's one of those books where there are a lot of photos and then words on a 10th of a page." He'd suggested to a frequent collaborator that they work together on a purely slapstick version of the Cyrus book based on the life of a fake pop star, then had another thought an hour later. "I realized, if I take this seriously and don't play it for laughs, this could be a novel. I started writing it that day, and wrote 3,000 words."
His publisher, Free Press, is hoping to get the book into universities for incoming freshmen. Given young Jonny's sexual fixations and reliance on prescription medication to sleep post-concert, one can imagine it being banned instead. Despite his age, Jonny experiences an actual backstage sexual encounter—or an attempt at one, anyway—that is more than a little unsettling.
"In a lot of books narrated by 11- or 12-year-olds, the kids are prodigies, verbal prodigies, and the reason is you can't have a novel from the actual perspective of a 12-year-old, because … it's a 12-year old. So novelists will create a kid who's a genius, so that adults can read it. I wanted to have some adult-ness to him and some childishness to him."
Childish to the extent that any child star can be. As with Justin Bieber, who has had his every move documented in real time on the Internet for several years now, Jonny Valentine's future is far from certain even as the book ends. His career is doing fine, but he still concludes, moments after selling out Madison Square Garden, "I'd work twice as hard. I'd sacrifice everything in my life that held me back."
editorial@observer.com