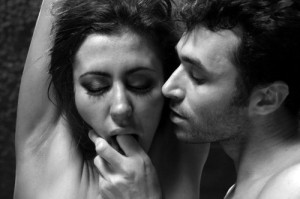 Turns out that James Deen has his finger in many pies—and not just in the gross sexual way that you were thinking.
The it-boy porn star, whose claims to fame include a hefty endowment and a co-starring role in The Canyons with Lindsay Lohan, is branching out yet again, with the release a new video food blog called "James Deen Loves Food."
The blog, which is featured on the porn site WoodRocket.com, is surprisingly safe for work, and features a fully-clothed Mr. Deen engaged in various quirky dining stunts, which include ordering everything on the Burger King Menu and making ice-cream with liquid nitrogen. We just hope he washed his hands.
Don't worry, this new venture doesn't mean the habitually filthy Mr. Deen is cleaning up his act, and the blog itself has a sufficient dose of sheer creepiness to disqualify him from becoming the next mainstream foodie sensation. (Although, frankly, we aren't ruling it out. Diners, Drive-ins and Dicks, anyone?)
You see, Mr. Deen is apparently obsessed with serial killers, and the blog features various allusions to some of his fave mass murderers, including segments in which he samples the death row meals of infamous inmates like John Wayne Gacy, Ted Bundy and Gary Leon Brown. Creeeeepy.
Let's just hope that Mr. Deen's interest is purely academic, because the porn industry simply won't survive another scandal.
That being said, it's hardly the weirdest thing on WoodRocket. The site bills itself as "the future of porn!" and features avant garde productions like the scientifically-probing "What fits down her throat?," the literary "Topless Girls Reading Books," along with something called "Spongeknob squarenuts XXX." Something for everyone!
So yeah, lest the New York Times article failed to convince you—James Deen is NOT your average porn star. He's just your average serial-killer-obsessed porn star turned Hollywood actor with a food blog. Are you getting all this?