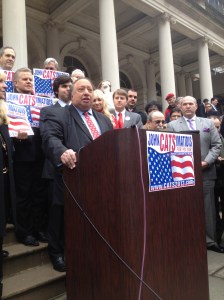 Bombastic billionaire business man John Catsimatidis officially announced his candidacy for mayor as a Republican on the steps of City Hall today in a freewheeling press conference that touched on his philosophies on life, business and his positions on many of the major issues of the day. Though Mr. Catsimatidis deviated substantially from the prepared remarks distributed by his staff prior to the event, he did focus on his background as a native New Yorker and his experience as a businessman.
"It's not that I'm only a business person, I came from 135th Street. I never forgot where I come from. I'm not a Mike Bloomberg billionaire, I'm not wearing a $5,000 suit. I think my wife paid $100 for this," said Mr. Castimatidis, grabbing the lapel of the wrinkled black suit that covered his ample frame. 
When Mr. Catsimatidis took questions following his speech, Polticker asked him to show us what type of suit he was wearing. Though he didn't reveal the label, he gave a few details about the suit's origins.
"I think it was $99 at Joseph A. Banks," he said. "So, I'm not wearing a $5,000 suit and this is what I wear every day."
Despite his desire to differentiate himself from the billionaire currently occupying City Hall, Mr. Catsimatidis praised Mr. Bloomberg's policies and said his objective would simply be to make New York "a little bit better" by building on the progress made by the current administration.
"The world has confidence in our city. They have confidence in Mayor Bloomberg, they have confidence in [NYPD] Commissioner Kelly. And tens of billions of dollars of money is flowing into our city keeping our economy going … because of this confidence," said Mr. Catsimatidis. "This is an important election, because if we go in the wrong direction at all … that money dries up. … We have to maintain the world confidence. The money is rolling in from Russia, Europe, Asia, the Middle East."
Mr. Catsimatidis was flanked by sign-waving supporters, his two children, his son-in-law and his wife, Margo Vondersaar. Ms. Vondersaar was wearing a cast over her foot that she said was due to a heel fracture she sustained while "dancing."
After outlining how he believes his background as a self-made businessman helps him "feel peoples' pain" and his vision of job creation, building on the work of Mayor Bloomberg and keeping the crime rate down, Mr. Catsimatidis addressed his party affiliation. Mr. Catsimatidis was once a Democrat, like the majority of voters in New York, but he switched parties a few years back and is hoping to make his mayoral bid on the GOP line. In his announcement, Mr. Catsimatidis cited his appreciation for several Democratic politicians.
"I got my lessons, you know, from a lot of people. One of the people I admired was Bill Clinton and he wasn't a Republican, but business people weren't afraid of Bill Clinton. He was pro-business. … We all did well under Bill Clinton," Mr. Catsimatidis said. "I admired John Kennedy, I was 12-years-old, 14-years-old when he got up in front of everybody. … And he had a vision, 'Let's go to the moon by 1969.' … And we went to the moon. I admired Martin Luther King, he had a dream, he was a visionary. He dreamt about some day there'll be a black president. Well, thank god, his dream came through." 
Mr. Catsimatidis did substantial fundraising for Mitt Romney during the past presidential election, so we asked him whether seeing President Barack Obama in the White House really made him feel grateful to a higher being as he implied in his remarks about Mr. King.
"Well, that's a good question. I did support Mitt Romney and, like I said, I was a Clinton Democrat. I thought that President Obama–the thing I disagreed with him most [was] that every morning I woke up, I was being attacked for being a successful American," said Mr. Catsimatidis, his voice rising as he continued to speak. "Listen, let's tell all the kids in every community we're not going to attack them for being a success! We want them to be a success! … Let's not tell these kids, if your successful, you're no good! That's wrong!"
Along with discussing his comments about President Obama, Mr. Catsimatidis took questions from reporters about many other aspects of his campaign including his pledge that he would spend up to $20 million on the mayoral bid. In his answer, Mr. Catsimatidis he might actually be willing to deploy more of his immense wealth on the race.
"Whatever you decide to spend on a campaign, you go in increments," he said. "You spend five and then you get pregnant, and then you spend another five and then you get more pregnant. … Look, if it's going our direction, we'll spend whatever we have to spend, but like I said, It's an investment in New York, my investment in New York."
He was also asked about the man most observer consider the leading candidate to win the Republican primary, former MTA Chairman Joe Lhota. Mr. Catsimatidis described having a cordial relationship with his opponent.
"I like Joe Lhota, you know, we get along. He's a very fine person, but it doesn't have to do anything with me being a visionary and doing the great things for New York," said Mr. Catsimatidis. "I'm in it to win. I'm in it to run and that's why I'm here. … All my life I've been winning. … I made it from that Greek island, to 135th Street, to the top of the business community. It's my turn to give back to New York and that's all I care about."
Mr. Catsimatidis also expanded on why he believes he would be a better choice for the city than Mr. Lhota.
"I'm a visionary, I'm not a maintenance person. I've hired tens of thousands of people and I have very few visionaries, they're very hard to find," he explained. "I have a lot of employees that maintain. Every day they come to work and maintain. There's a difference between a visionary and a maintenance person."
Daily News reporter Celeste Katz attempted to delve further into Mr. Catsimatidis' political affiliation by asking why he departed the Democratic Party.
"I'm a moderate," Mr. Catsimatidis said. "In this city, you can't get the Democratic nomination unless you're extremely on the left. Hey, do I have issues that I'm on the left? Oh yeah."
Ms. Katz interrupted him to ask, "Like what?"
"What do you want? Gay marriage? Whatever," said Mr. Catsimatidis. "People have the right to do whatever they want. This is why people came to America."
Ms. Katz tried to press Mr. Catsimatidis about his positions on abortion and gun control, but he rumbled onward discussing his "pro-business" leanings.
After a few questions, Mr. Catsimatidis' staff began trying to conclude the event.
"Guys, that's it," they said to the crowd of reporters encircled around the podium. "Thank you."
The reporters were undeterred and continued peppering Mr. Catsimatidis with questions on a variety of issues. At one point, he revealed another difference between himself and Mayor Bloomberg.
"I'm going to work cheaper than Mayor Bloomberg, who's working for a dollar," said Mr. Castimatidis, referring to the present mayor's largely symbolic salary. "I was a grocer, I'll work for 99 cents."
His staff began ushering him out of City Hall Park pleading with the reporters to end their questioning of the candidate.
"Guys, that's it, thank you," they begged in vain. "No more questions. Please, no more questions."
However, the press would not relent and Mr. Catsimatidis was still clearly eager to talk. He continued taking queries on a variety of topics as he proceeded to his car including his ornate cufflinks ("a present from my friend Ray Kelly for my birthday") and whether he was nervous about the mayor's race.
"You know what being nervous is?" Mr. Catsimatidis asked. "Flying my airplane with one engine out and knowing you have to land it with no mistakes. If I did that, nothing else makes me nervous."
One of the last questions he took was about his claim that he would only serve a single term if elected. He admitted he might want to stay in City Hall longer if he was unable to find "a good replacement."
"I might be forced to go more than four years, but I'd rather do four years," he said. "I just want to do my duty to god and my city."