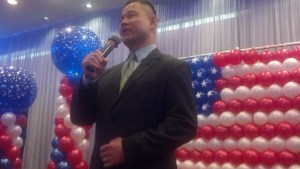 Earlier tonight, Comptroller John Liu held a birthday party extravaganza at the renowned Jing Fong dim sum restaurant in Manhattan's Chinatown. It was quite the affair, featuring a number of speakers, a packed crowd, a massive display of balloons, a gigantic American flag-themed birthday cake and even a celebrity impersonator. The event, which doubled as a fundraiser for his expected mayoral campaign, also served as a teaser for the expected electoral effort.
"2013 is going to be a year of change, a year of change in the City of New York, the greatest city in the world!" Mr. Liu declared in a policy-laden speech outlining his plans to achieve greater economic equality in the five boroughs while deftly avoiding directly announcing his intention to run for mayor. "We've got a lot of ideas. We've got the will to start this campaign and to win this campaign. And 2013 will be a year of change and with all of your support, I know we're going to get there."
Then came the "big" announcement.
"Now that 2013 is here, we're going to make the big announcement very soon!" he shouted. "Tonight I'm announcing that we're going to make an announcement soon!"
While Mr. Liu himself refused to specifically say what office he's campaigning for, some officials and other speakers who introduced him expressed excitement about the comptroller taking the helm at Gracie Mansion next year.
"We all have to support him for this political journey," Councilman Peter Koo declared. "In November, we're going to have a new mayor!"
Others were even more explicit, including the singer who did a mock-rendition of Marilyn Monroe's infamously sensual "Happy Birthday, Mr. President" serenade to President John Kennedy with the lyrics changed to "Happy Birthday Mr. Mayor."
Of course, Mr. Liu has a numbers of obstacles in his electoral path before he can become mayor, not the least of which are the criminal charges that have been placed against both a top fundraiser and his former campaign treasurer, where prosecutors are alleging a scheme was created to funnel illegal donations into his campaign coffers. Mr. Liu tackled the allegations head on in the press invite for his birthday fundraiser. Addressing reporters earlier in the evening, Mr. Liu also said he is more than willing to testify in the trial, which is set to begin next month.
"I have no qualms about getting up and saying what the truth is and I look forward to my opportunity to do so," he said.
Though he touted his willingness to take the stand, at his birthday event Mr. Liu repeatedly resisted reporters' attempts to grill him more specifically on his campaign. When NY1's Courtney Gross asked about the night's fundraising numbers, he deflected the question by joking, "It's my birthday Courtney, my goodness. Could somebody get Courtney a stiff drink?"
Mr. Liu nevertheless referenced the charges against his campaign–although indirectly–at multiple points in his speech, while vowing to plow "full speed ahead" in spite of them.
"It's not going to be easy. As we've seen in the past year, lots of things [were] thrown at me, lots of things thrown at my campaign, all sorts of insinuations and allegations, none proven. Yet you've stayed by my side," he said to the room of cheering supporters. "We're going to have to ensure that we have the sheer willpower–the sheer willpower–not just to win this election, but to start doing the work that comes immediately after we win the election, that is to change the City of New York….A lot is going to be thrown our way, it's going to get nasty, and I have no delusions about how this campaign is going to go through the rest of this year. We have to be ready. We have to be fired up. We have to be ready to go. We have to have all systems in. We have to go full speed ahead. So I have to ask you, Are you ready? Are you ready? I'm ready, we're going to win this campaign!"