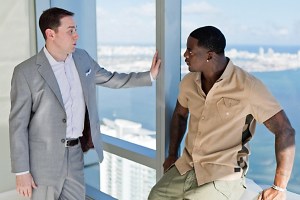 We're sure that Scoring the Deal will do very well. Like a bacon cheeseburger on a glazed doughnut, the Home and Garden channel has combined three elements that Americans love: professional sports, aspiration real estate and reality TV.
How could it not be a hit?
Besides the fact that athletes apparently make decisions very quickly and without much fuss because they must move quickly after signing new contracts?
Or that the host—a Michigan broker named Jason Abrams—claims to be doing the show as a form of educational outreach to help professional athletes who quickly burn through their short-lived earnings?
Fiscal responsibility, outside the ridiculously thrifty realm of Extreme Couponing, does not seem very promising as a dramatic underpinning.
"I thought maybe a show about what I do could help educate people," Mr. Abrams told ESPN. "Guys get close to retirement, and thanks to trades and free agency, they have five houses in five cities. It's like dying from the common cold. All the numbers add up."
Right. Because there are a lot of professional athletes who will watch the show and avert the temptation to squander one's earnings during their ever-so-brief window of fame and fortune?
Was HGTV they worried about debuting yet another real estate show when there are already more real estate hunting shows out there than we can count? House Hunters, JWB Home Buyers, House Hunters International, Million Dollar Listing, Million Dollar Listing New York, Selling New York, Flipped Off, Flip Men and Property Brothers to name just a few. And who could forget Hideous Houses, that delightful exercise in schadenfreude?
We get it. These kinds of programs are HGTV's bread and butter. You can only have so many shows about decorating houses, decorating gardens and property inspectors. And reality show producers have been notably scraping the bottom of the barrel of late with gems like Stars in Danger: the High Dive, Storage Wars and Dance Moms. Niche shows targeted toward large audiences beget even more obscure shows targeted toward even more niche audiences. You can watch JWoww attempt a high dive! Or could have if she hadn't suffered some kind of back injury (or a more promising engagement).
Not that Scoring the Deal won't be interesting. It definitely looks like it will be riveting for all of two episodes.
The first, which aired this Tuesday involved former NFL linebacker Cato June looking for a Manhattan luxury apartment. According to the HGTV write-up (we missed it) this is tricky because he only has $10 million to spend (clearly, he's been listening to the sage financial advice from Mr. Abrams about not over-extending himself) and he's accustomed to living in sprawling estates. Which he's still going to live in. The New York loft is just so he can be close to the Broadway show he invested in (maybe not the smartest financial decision ever).
The most promising aspects of this show: apparently, there is a lot of talk about stripper poles and, as The New York Times notes: "Basketball and football players often don't fit into conventional showers or bathtubs."
Who knew!
kvelsey@observer.com