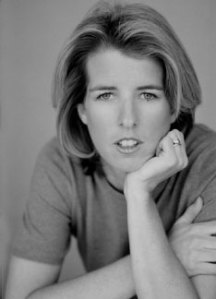 Could Rory Kennedy be moving out of Park Slope? Leaving New York's own Camelot, where hope, optimism and real estate prices are always on the rise, along with the test scores of little Rowan and Madeline?
Ms. Kennedy and husband Mark Bailey have sold their 10-room Beaux-Arts townhouse (with an aristocratic exterior of limestone and brick, so you can't call it a brownstone) at 33 Montgomery Place. We don't know if the documentary filmmaker (and daughter of Robert F. and Ethel Kennedy) is staying in the neighborhood or not—no records of a new buy have turned up in city records, and Ms. Kennedy has not yet responded to a request for comment.
We do know that the couple made a handsome profit on the $3.45 million sale of the townhouse, which they bought for $1.5 million in 2004. While the loss of a Kennedy, along with whole school redistricting saga, could hurt home values in the neighborhood, Patrick Stewart was a huge get last year. He even tweets Instagrams of himself drinking cappuccino at local coffee shops!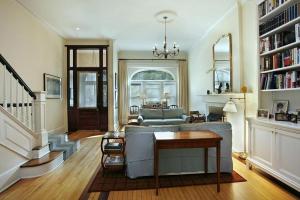 Ms. Kennedy's production company Moxie Firecracker Films is located nearby on Third Street, so it seems unlikely that Ms. Kennedy would flee the city altogether. But there are other, more traditional roosts for a Kennedy in New York: 740 Park, built by Jackie O's grandfather James T. Lee, where Rory's aunt roamed the halls as a girl (although the building has no vacancies). Or 1040 Fifth Avenue, where Jackie spent her later years. Or the Lower East, where niece Kick has made a home.
Ms. Kennedy listed the house for $3.65 million with Corcoran broker Minette Stokes in May, but seemed unsure if the price was right, raising it up to $3.75 million, then dropping it to $3.5 million in the same month, before taking it briefly off the market in the summer. She relisted in September for $3.6 million.
The home, in the listing photos, appears bland and elegant. Neither old-fashioned nor hip. The palette of whites and slate blue-grays (just like Hyannis!) is illuminated by excellent natural light  The kitchen has (of course) been redone with Wolf, Miele and Sub-Zero appliances. But the buyers, musical powerhouse couple Robert Lopez and Kristen Anderson Lopez, will probably jazz it up. At least, we predict the addition of at least one piano so that Ms. and Mr. Lopez, a Tony Award-winning composer who co-wrote the music for The Book of Mormon and Avenue Q, can work form home.
kvelsey@observer.com