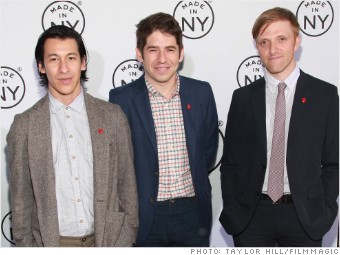 Kickstarted The crowdfunding king released its annual highlights for 2012 this week. And the startups is going about as gangbusters as well, an oversubscribed, blockbuster Kickstarter campaign. In 2012, 2,241,475 people pledged almost $320 million and successfully funded a little over 18,000 projects. That works out to about $606 per minute. Monetization is so much easier when it's baked into your platform, isn't it?
Indie No More Kickstarter competitor Indiegogo also released data for 2012. Campaigns raised 20 percent more in last year than they did in 2011 and successful campaigns took an average of 11 days preparing for their launch.
On the tech side, 64 percent of core campaigns incorporated video in their campaigns. The lesson, though, is keep those videos short: campaigns with videos under five minutes were 25 percent more likely to reach their fundraising goal. The average length was three minutes and 27 seconds. "This Is Forty" could learn a few lessons from these fundseekers.
Closing the Gap Mayor Michael Bloomberg and Schools Chancellor Dennis Walcott launched a new software development competition for programs to help middle school students excel in math. The Gap App Challenge invites developers to submit applications, games or other programs that focus on middle school math and can be used by students, teachers or parents. Submissions will be accepted through April 10, 2013, and will be reviewed by two panels: one comprised of public school principals and teachers, and the second comprised of Department of Education officials and experts in technology, media and design. The criteria include idea originality, potential impact and feasibility. No Angry Birds need apply.
More Girls Are Coding Girls Who Code, the do-gooding non-profit that encourages and trains teenage girls to pursue careers in technology and engineering, announced they're growing their team. Founder Reshma Saujani sent around an update about new corporate, academic and foundation partners and expanding programming to reach hundreds of girls through the first ever Girls Who Code clubs. Good luck not humming Beyonce for the rest of the day.
Digital Libraries, Dour News A new report released today by the Center for an Urban Future shows that New York City's public libraries are serving a record number of people even as more New Yorkers are turning to e-books and other digital resources. But while the report finds that libraries have become an increasingly critical, it also notes that the libraries are open fewer hours than most other large urban library systems–too many branches across the five boroughs are in bad shape and the libraries face growing threats in today's digital age. A mixed bag of news for bookworms everywhere.
Haute Hackture Apparently, you can now hack your way to Fashion Week. The Hearts Corporation has partnered with AngelHack Events to bring you the inaugural Hearst Fashion Hackathon. Prizes include access to exclusive VIP Fashion Week shows and events, use of your hack in NYFW events, thousands in cash prizes, and mentorship from Hearst Corporation to help take your app to the next level. Le geek c'est chic, we guess.
Escape to South Beach Time Warner Cable is currently running a sweepstakes where five people will win a trip for two to Miami in late February to enjoy the Food Network South Beach Wine & Food Festival. Presented by FOOD & WINE, the festival is surely a nice way to escape the winter doldrums, if you are so lucky.  All a person needs to do is enter is fill out the free form found on Time Warner Cable's facebook page by the January 21 deadline date. It's a nice try, but we'd still rather you try to come up with a more reasonable service window than: sit around your house all day.