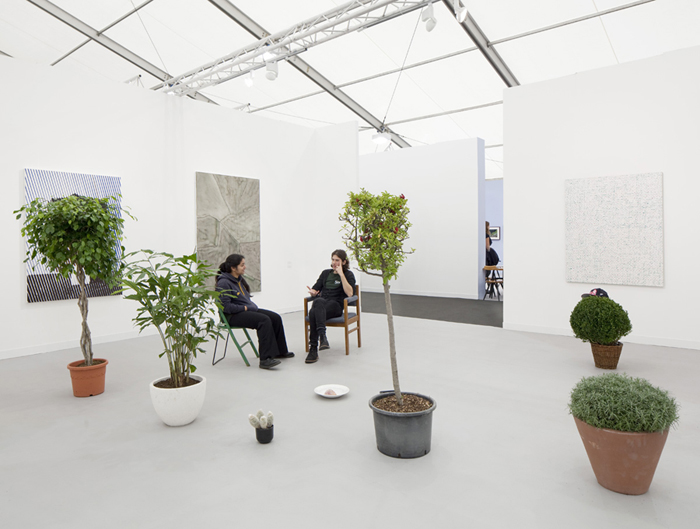 Lower East Side art dealer Lisa Cooley is hunting for volunteers to participate in a work by artist Darren Bader included in the gallery's group show that opens this week, "Air de Pied-à-terre." The work is called (take a deep breath) A conversation between two plants; a conversation between plants from different species; a conversation between a plant and something made of plant cells; a conversation between Tim and Gaffi; a conversation between you and some energy source you don't care about; (a conversation between you and) something you believe in; a plant with a hat. The gallery has posted a call for volunteers on the New York Foundation for the Arts' website; the lucky participants will take part in the fourth section of this instructive title–"a conversation between Tim and Gaffi." What will they be doing?
"Having a conversation," Ms. Cooley said cooly. "Even if they're not talking, it's implied that they will be there and interacting."
The piece, which focuses two people surrounded by various plant life, was first presented at Frieze London in 2011. Ms. Cooley is looking for people to converse during gallery hours (Wednesday through Sunday, 10 a.m. – 6 p.m.) while the show is on view Jan. 10 through Feb. 3.
"We need to make sure there are two people here for the duration of the piece," she said. "If someone is willing to come and be that person for the whole time, that would work. If we can't find anyone to volunteer we might have to—I don't know. I've never done this before."
According to the job posting on NYFA, "They can engage in a variety of activities during the course of the work (ie: walk, sit, stand, lie down, sleep, eat, etc…) as long as they are sometimes conversing."
It's probably best to brush up on your current events, just to be on the safe side.