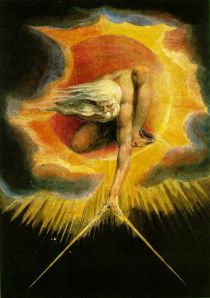 After a two-year-long search, researchers at the University of Manchester have found about 350 etchings by William Blake buried in the collection of the university's John Rylands Library.
Blake's engraved plates appeared alongside a number of his poems–like his pretty bonkers interpretation of Laocoön, as well as his famous The Ancient of Days frontispiece from his poem "Europe A Prophecy" (pictured at left).
Here's more from The Independent:
"The library has held works by Blake including hand-coloured illustrations of Young's Nights Thoughts, but the team suspected more were hidden in the collection of a million books and records."
Many of the newly-discovered works will be on view at the library next month.