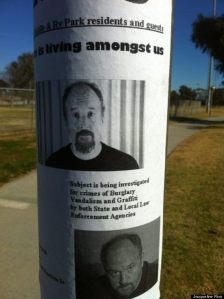 Louis C.K. might play a downtrodden pervert on TV, but does that make him one in real life as well? According to a group of fliers found in California, Mr. C.K. might be even worse than an average Joe Jack-Off: His photo has been connected on the posters to a suspected peeping tom.
But maybe it's just great viral marketing?

Full posters: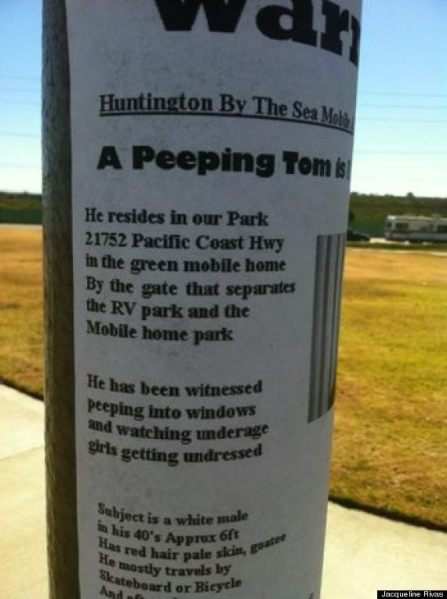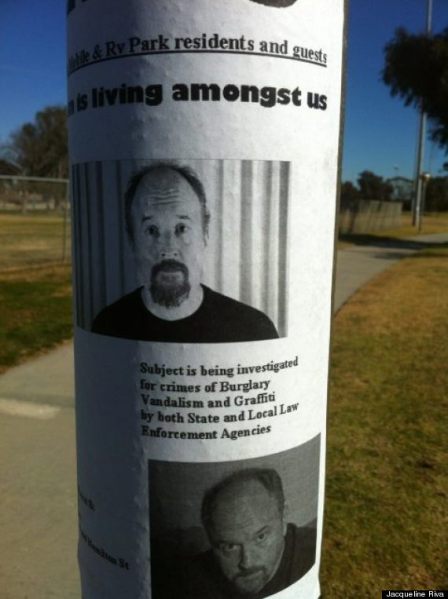 So far, the police haven't commented on the validity of these signs, which put the comedian's address at Park 21752 on the Pacific Coast Highway. The picture was first discovered by resident Jacqueline Rivas, who posted the pics to her Twitter account and claims to have had nothing to do with the signs' creation.
Still, it seems unlikely to be the Louie star: though he is on hiatus and can certainly afford a green mobile home, we doubt that the self-described gym-hater would be seen "traveling by skateboard or bicycle."
As for the viral marketing angle, it seems unlikely, seeing as Louis C.K.'s latest round of tours is only bringing him to California for one engagement, in Sacramento in February.
The Observer has reached out to Louis C.K.'s publicist but has yet to receive a response.