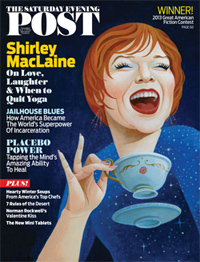 On a recent chilly Tuesday evening, magazine editors and ad salespeople from one of the nation's most venerable glossies crowded the garden room at Michael's, holding glasses of pinot aloft as the publisher and editorial director took turns toasting the latest issue.
Waiters passed bite-size hors d'oeuvres that were eagerly snatched up by hungry attendees. Busy bartenders poured white wine and whiskey. Editors and writers and advertising salespeople crowded in the corners, grabbing surreptitious glances at name tags. Assistant editors strategically positioned themselves near the coconut-crusted shrimp.
If the scene looked like something from days gone by—back when glossies were flush with revenue and lavish events were a common occurrence—still more jarring was the title of the magazine being feted, its recently redesigned cover, blown up and mounted on foam core, propped up on a stand in the corner: The Saturday Evening Post.

"I didn't even know the magazine was still around," a young book editor told us as he stood, sipping a glass of white.
Nobody did!
But not only did the title survive the shakeout of a few years past (and numerous other shakeouts before that), it actually turns a profit. The Post, as it prefers to be known these days, still reaches 350,000 subscribers, most in their mid-50s (down from a readership that once topped 6 million), and is fat with advertising, hokey though some of it is.
Editorial director Steven Slon is fond of paraphrasing Mark Twain's line about rumors of his death being exaggerated. As Mr. Slon, who came to the Post in 2010 from AARP Magazine, admitted, "Our No. 1 challenge is 'I thought you were out of business.' If you're not a subscriber, you don't know it exists."
Though perhaps best remembered for its classic covers illustrated by Norman Rockwell, the Post is also the title that let Joan Didion slouch toward Bethlehem and rejected Ernest Hemingway's early stories about bullfighting. It published Edgar Allan Poe and helped subsidize F. Scott Fitzgerald's crack-ups. C.S. Lewis, Agatha Christie, William Saroyan, Rudyard Kipling, John Steinbeck, Kurt Vonnegut Jr. and William Faulkner all had bylines in the magazine.
"What Steve is trying to do is get the best of the history of the magazine and put it in a new, 21st-century outfit," explained Samir Husni, a media consultant who is lending his expertise to the Post. "They never stopped publishing, but nobody knew. It became the best-kept secret in America, and now they are trying to reveal the secret."
The party at longtime media haunt Michael's was part of that effort to get the word out. It also doubled as a celebration of "Wolf," Lucy Jane Bledsoe's winning entry in the magazine's new short story contest.
Mr. Slon has a few other initiatives in the works: he is aiming to expand the title's newsstand presence from close to zero (nowhere to go but up!) and launch a tablet app.
This month, the magazine introduced a redesigned cover. Its new logo emphasizes the "Post" and renders the "Saturday Evening" part in small print.
"This is based on a historic logo, but it's contemporary," Mr. Slon told The Observer over coffee in Midtown earlier on the day of the event. "There's a look to this type that has sort of an '80s, modern feel."
As to why it has chosen to de-emphasize the "Saturday Evening" part of the name, well, the magazine is no longer delivered on Saturday evenings. It's now a bimonthly. Also, it just sounds snappier.
The new January/February cover features an illustration of Shirley MacLaine holding a cup of tea, eyes closed, mouth open, head thrown back in what seems to be laughter, earrings dangling. The 78-year-old actress, who is promoting her appearance on Downton Abbey, is practically a Tina Brown-worthy buzz magnet compared with the magazine's last cover, which featured a bucolic painting of a man being chased by a dachshund and a boy while dragging a Christmas tree through a snowy field and imploring the reader to "Make This Your Best Christmas Ever!"
The Saturday Evening Post traces its origins to 1728, when Benjamin Franklin founded a newspaper called the Pennsylvania Gazette. In 1821, new owners changed the name to The Saturday Evening Post. Fifty years later, it became more "magazine-y," which in 1870 (as now) meant more features, more pages and more entertainment coverage. Norman Rockwell began painting the iconic covers in 1916.
And those covers explain how the magazine has survived all these years. The company retained the copyright to the images, which include Rockwell's most well-known paintings.
"We have an income stream that other magazines don't, which is rights," Mr. Slon said. Rockwell mugs, T-shirts and other paraphernalia translate to roughly $13 million a year in licensing fees.
That's not the only way the magazine is capitalizing on its long life. The new back-of-book includes a feature called "The Vault," which mines the magazine's archives. "We Were There First" showcases the predictions that ended up being right. (The demise of black-and-white TV? Called it back in 1968!) Perhaps more interesting is "Did We Say That?" which examines assertions from years gone by that now seem out of step, such as the contention that Italians "will never be anything except stolid manual laborers," from 1920. A small item on the bottom of the page points out that Washington gridlock was just as bad in 1950. Good to know!
Will boomers embrace a publication that hasn't been cool since the Beatles played Shea?
Even when Joan Didion was packing leotards, a mohair throw, bourbon and a typewriter for her reporting assignments, the Post was already something of a relic.
"Quite often people write me from places like Toronto and want to know (demand to know) how I can reconcile my conscience with writing for The Saturday Evening Post," Ms. Didion wrote in the preface to Slouching Towards Bethlehem (13 of the 20 essays in the collection first appeared in the Post). "The answer is quite simple. The Post is extremely receptive to what the writer wants to do, pays enough for him to do it right, and is meticulous about not changing copy."
In 1969, right around the time Ms. Didion was living every writer's dream of editorial freedom and sufficient cash, the magazine declared bankruptcy. A year later, Beurt SerVaas, an Indianapolis businessman, bought Curtis Publishing (which owned the Post as well as some children's magazines) and moved the company to Indianapolis.
The magazine is still published by the SerVaas family (Joan, one of Beurt's five children, holds the title of publisher) and reflects that Midwestern sensibility.
Now, the challenge is to retain the Midwestern-heavy subscriber base while broadening the appeal to the coasts. As part of that effort, the magazine is opening a second office in Philadelphia.
"It's sort of an emotional connection to the city, a historic connection; that's where the magazine always was, and there's also a lot of great editorial talent there," Mr. Slon said. After all, as both he and Ms. SerVaas are quick to point out, the magazine did begin as the Pennsylvania Gazette.
Some changes on the ad side are also afoot, and not a minute too soon, to judge by the current crop of display ads. The most recent issue carries pitches for shingles vaccines, easy-to-use computers and cellphones ("for you, not your grandchildren," promises one full-page ad for a computer), elastic-waist pants in a variety of cheerful colors, absorbent underwear, three separate brands of hearing aids and two no-slip bathtubs.
The magazine recently hired James G. Elliott to help appeal to a broader consumer base, especially in metropolitan areas, where the in-house ad department has less of a footprint.
Mr. Elliot conceded that the ads skew toward an older demo. "That's probably true, but I'm not sure that's a bad thing," he said. "The issue of age is not an issue of the quality of the advertising. Some of us older people buy stuff too."
Moreover, they have deep pockets.
"As the baby boomers advance in age, we are the only ones with any discretionary income," Ms. SerVaas noted. That said, she also has a plan to reach a younger generation. "When we go to talk to advertisers, they say, 'We are looking at the 18-to-30-year-old market,' and I say, 'Well, where do you think those people live? They moved back with their parents!'"