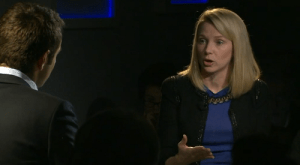 There's rarely been a shortage of speculation on the future of Foursquare, the New York startup everyone loves and nobody knows how to monetize. Just last month, a story in The Wall Street Journal and had us wondering whether Apple might kick the tires on Dennis Crowley's company as a way to buttress its iOS Maps.
Now from the World Economic Forum in Davos comes reason to wonder whether another Silicon Valley giant might have its eye on the Silicon Alley starlet.
In an interview with Bloomberg Television's Erik Schatzker, Yahoo CEO Mariss Mayer said that location-based services are among the most exciting in the technology industry:
"I think there are amazing things you get to see all the time. All kinds of amazing technologies on mobile. When you think about what it means to be location sensitive…Some of these are very basic in terms of things like being able to check in, so there's Foursquare, but if you actually know where people are and where they check in, there are all sorts of sophisticated and interesting thing you can go on to do. So I think there are amazing technologies like that."
Might a New York City shopping trip be in the works?