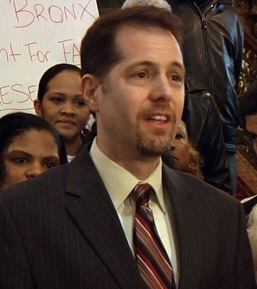 Mark Levine, a Democratic district leader campaigning for the seat held by outgoing Councilman Robert Jackson, is flexing his political muscles even as attention in the race has shifted to the racially-charged epithets used against him and his supporters. Indeed, this morning Mr. Levine announced he has received the formal endorsements of three notable elected officials on the northern side of Manhattan: Congressman Jerry Nadler, State Senator Adriano Espaillat and Councilwoman Melissa Mark-Viverito.
"In a district as diverse as the 7th, it is critical that we elect a leader with a proven track record of bringing people together–a leader like Mark Levine," Mr. Espaillat said in the statement. "From speaking fluent Spanish, to founding a diverse Democratic club, to fighting tirelessly for progressive causes, Mark has the skills and experience to be a great council member for ALL residents of this district."
Mr. Espaillat touting Mr. Levine's diversity credentials is no accident of course; the district he's campaigning for is only about 24 percent white in the latest redistricting rendition, although that's subject to change in the final draft. Further highlighting the demographic issues, one of the candidates in the crowded field of contenders, Thomas Lopez-Pierre, has taken to writing controversial missives attacking Mr. Levine's "White/Jewish" candidacy and calling his supporters names like "Uncle Tom."
While the endorsements don't come as a massive surprise–Mr. Espaillat and Mr. Levine are close allies, after all–they reflect a growing base of establishment support for Mr. Levine. Past endorsers include Public Advocate Bill de Blasio, Manhattan Borough President Scott Stringer, Councilman Ydanis Rodriguez and Assemblyman Denny Farrell.
View today's full list of statements below:
"Now more than ever, the progressive movement needs activists like Mark who combine a passion for social justice with the skills and experience to make real change." said Congressman Jerrold "Jerry" Nadler. "He is exactly the kind of leader I want as a partner in government."

State Senator Adriano Espaillat said, "In a district as diverse as the 7th, it is critical that we elect a leader with a proven track record of bringing people together–a leader like Mark Levine. From speaking fluent Spanish, to founding a diverse Democratic club, to fighting tirelessly for progressive causes, Mark has the skills and experience to be a great council member for ALL residents of this district."

New York City Council Member Melissa Mark-Viverito said, "Whether the issue is affordable housing, education, or economic justice, Mark is a proven fighter who knows how to get results. I know he would be an incredibly effective council member and I look forward to serving with him."

Reacting to the endorsements Mark D. Levine said, "I am honored to have the backing of these three outstanding public servants," adding, "I look forward to working with them as a team to advance progressive values and improve the lives of the families of the 7th District."