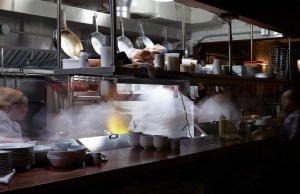 When an ambitious and tremendously good restaurant like Mayfield opens, as it did in November on the corner of Franklin Avenue and Prospect Place in Crown Heights, an ornate choreography is set in motion, no less intricate or predetermined than a tarantella or gavotte.
Aligned on one side, festooned in the pomp of the court, is the stout Old Guard. They begin by wiggling their codpieces and running in little circles shouting "Gentrification!" As they shuffle, they fan themselves with a sheaf of papers emblazoned with statistics on rising rents and evictions and excerpts of Frantz Fanon.
Facing them, bosom implored upward by a tight bodice, is Callow Youth. She shakes her tresses, coquettishly prances and squeals, "My lovelies! Have you ever heard of Crown Heights? I've found a new restaurant there and it is simply gorgeous!"
Through the night, the couples whirl more quickly and furiously as they wade deeper into the dance: tradition, wearing the scarlet cloak of Marxism, and naïveté, gauzy in a veil of imbecile white. Spittle flies and commingles with sweat, slicking the floor. Slips occur. By the time the last lutist leaves, the dancers will have collapsed into a multi-limbed pile.
Lost in the tumble, of course, is the food.
Prima facie, it is not difficult to see why Mayfield might set off such fury. Crown Heights is already a neighborhood in flux. After a sordid history of race-tinged strife seemingly overcome of late, it now has the Barclays Center breathing the heavy and hot winds of change down its streets.
Mayfield, where the average entrée costs $16, the walls are white tile, the brick exposed, the lighting soft, the typography custom, the men bespectacled and the women banged, might be a harbinger of what Crown Heights will be in five years time. And it's a future that, like all futures, contains both net gains and net losses. (What with the current Nets season record, I'm betting on Net losses.)
Mayfield is named after Curtis Mayfield, the great soul funk singer whose hit album was about a cocaine dealer. It is jointly owned by a 37-year-old Upper West Side native named Lev Gewirtzman—previously employed at Tom Valenti's shmancy Upper West Side restaurant Ouest and Stone Park Café, the Park Slope purveyor of expensive comfort food to NPR subscribers—and Jacques Belanger, a Torontonian who had worked with Mr. Gewirtzman in Mr. Valenti's empire.
The audacity! Responding to sundry Old Guard comments on the blog I Love Franklin Avenue, Chef Gewirtzman, who has lived in Crown Heights for the last seven years, defended his restaurant's name with an autobiographical disclosure. "I still remember when I bought the Superfly soundtrack on album from a guy selling used records when I was interning on 125th street for the NYS Division of Human Rights my junior year in high school. It's been my dream to open a restaurant for many years. When I moved here I was immediately struck by the potential of Franklin Avenue and have been working ever since to make that happen."
It's hard to take issue with Mr. Gerwirtzman's point without being horrible. Surely, we must aver, he is not confined in his naming choices to bands like Dave Matthews, Pearl Jam, Phish or, in a more historical vein, Cantor Yossele Rosenblatt. (Though what a surprise that no one has yet named an oyster bar Pearl Jam.) Nor can we expect him to limit the scope of his ambition to a square-block radius wherein everyone looks exactly like he does, especially when he has lived in Crown Heights for seven years. Even the Old Guard, who rail against the vanilla tide of gentrification, blush at the implications of their own argument.
Nevertheless, a white guy opening a fancy restaurant on a black block named after a black soul singer rankles. Yet one of the great pleasures of Mayfield is how quietly brilliant it reveals itself to be upon closer inspection. Mayfield might not be the type of restaurant that will be unduly buzzed about among the critical establishment. It shall never enjoy the constant Instagram flash-panning of @rapo4, @kkrader and @andrewknowlton. Mr. Gewirtzman is well-respected but neither an up-and-comer nor a superstar. His restaurant is not in itself revolutionary. Nor is it timid. Flavors, though not outlandish, are clarion clear. This clarity, more than novelty, betokens the work of a very skilled chef.
Short, goateed and bespectacled, Mr. Gewirtzman is a chef more in the mold of Eisenhower than Patton. His forte isn't in brash flavor combinations or aggressively avant-garde technique but in the brilliant management of his legions and auxiliaries. He marshals flavors in perfect order, with discipline and skill and just enough of an element of surprise to confound expectation: a touch of yogurt in a butternut squash salad; something called Dante in the roasted Brussels sprouts (it turns out to be an aged sheep's milk cheese from Wisconsin). The ceviche is picked with something called fresnos; celeriac remoulade accompanies the house-smoked salmon. We are not in the pantry of a quisling, demagogue or tyrant.
The fragile flavor of seared Nantucket Bay scallops ($12) is protected and offset by a sweet dumpling squash, the melancholy spice of watercress and a truffle soy butter in which, a rarity, the truffle isn't overweening. The homemade pappardelle ($16) —quelle tendresse!—is surrounded by more hearty braised veal breast than a pedophile steer and yet is never lost in the carnivorous scrum. And enough can never be said nor written of Gewirtzman's Berkshire pork saltimbocca ($22), a holdover from his Ouest days, which doesn't really jump in the mouth as much as perform delightful little petits jetés across one's tongue.
Administering to the palates of Park Slope has left Mr. Gerwirtzman with a deep bench of bourgeois comfort food—like a Cuban sandwich ($14), here made with roasted pork shoulder and ennobled by house-made pickles, a burger ($15) whose generous height is matched by its flavor and a Berkshire maple bacon BLT ($13) whose renown has already begun to spread and shall only increase.
However I still quail before the buttermilk fried quail ($20) and would ask Mr. Gewirtzman and all those who chose to substitute so petite a bird for its larger cousin, whether the deeper flavor and residual social cachet of quail offsets the skimpy meat-to-bone ratio. The quail is, happily, the only misstep on the menu.
By removing the element of heat, the small raw bar section—which when I visited consisted exclusively of oysters (MP), sweet Maine shrimp crudo ($10) and local black fish ceviche ($11)—offers Mr. Gewirtzman less to play with, thereby distilling further his excellent taste. The shrimp crudo, in which silken slices of shrimp were accompanied by fennel and crisp apple sharpened by a light lemon oil, is both exactly the sum of its parts and more.
Perhaps the most commendable aspect of Mayfield is that it could be enjoyed, if one so wishes, as just a neighborhood bar. The wine list, which like the rest of the bar is the purview of Mr. Belanger, is democratic, by-the-glass and superb. It contains well balanced, fruit-forward wines like Temperamento Bobal ($9) as well as the all too rarely seen Txacolina ($11), a fresh almost effervescent Basque wine that is to oysters what Hall is to Oates. (The wine in this case is the refreshing Hall to the brinier Oates.) The beer list is even better, drawing from far afield (a Uinta Hop Notch IPA from Salt Lake City, $6) as well as from local breweries like Kelso ($6).
There, at the wood and tile bar, with Curtis Mayfield singing "I'm your pusher man," in the background, a member of the Old Guard can saddle up, adjust his codpiece, approach a Callow Youth, sipping her planters punch ($12), and ask, "Come here often?"