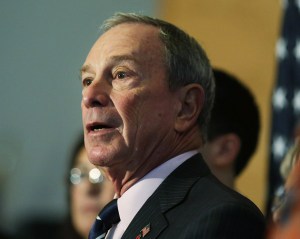 Though he still has over 11 months left in office, term-limited Mayor Michael Bloomberg presented the final budget of his tenure today. In the process, Mr. Bloomberg drew some parting shots from the leading Democratic mayoral candidates hoping to succeed him.
The mayor's plan for the coming fiscal year features some potentially unpopular spending cuts including the possible reduction, through attrition, of 1,800 schoolteachers. Mr. Bloomberg blamed these cuts on an immediate "$250 million hit" caused by the "refusal" of the local chapter of the United Federation of Teachers union to reach an agreement on a teacher evaluation system in time for the January 17 imposed Governor Andrew Cuomo as a condition for state education aid. The city now faces a February deadline to reach an agreement on an evaluation system with the union.
Council Speaker Christine Quinn, an early leader in mayoral polls, told reporters she was particularly concerned with proposed firehouse closures.
"The Council has serious concerns about the negative consequences reflected as a result of the absence of a deal on teacher evaluations. A further failure to strike a deal would be potentially devastating to our city's students," she said in a statement. "The Council is also concerned that the proposed budget would again result in the closure of 20 fire houses, along with cuts to after-school programs, among other areas. As we have said before, we are fully committed to protecting the essential services that New Yorkers depend on."
Ms. Quinn, though an ally of Mr. Bloomberg over the years, has clashed with him over budgetary matters before.
Comptroller John Liu, a more frequent critic of Mr. Bloomberg and another likely mayoral candidate, was even sharper in his critique of Mr. Bloomberg's preliminary budget and described the mayor's criticism of the teacher's union as scapegoating.
"In order to make up the budget shortfall resulting from City Hall's failed negotiating strategy on teacher evaluations, the Mayor has decided to scapegoat our City's public school teachers," Mr. Liu stated in a release. "The real fault, however, lies with his own misguided ideology, which could cost our children over $720 million this year alone. He should look to the DOE's runaway consultant spending rather than make cuts to the classroom."
Bill Thompson, a former comptroller and the runner-up to Mr. Bloomberg in the mayoral election of 2009, was just as eager to rip the mayor. Like Mr. Liu and Public Advocate Bill de Blasio, Mr. Thompson will be vying for the teacher's union's influential endorsement in the primary.
"The major deficits facing New York City are a direct result of the wrong fiscal policies pursued by the administration and its allies," Mr. Thompson said. "Mayor Bloomberg's failure to work with labor unions and drop cooperation in favor of name-calling and vitriol has been harmful to our city; one need look no further than these budget problems."
Mr. de Blasio, who formally launched his campaign on Sunday, also unsuprisingly tore into Mr. Bloomberg for the school system cuts.
"This isn't a legacy to be proud of. Every year the notices go out to parents, informing them that the early childhood education program or after school program they've built their lives around has been cut," he said. "Whether the services get restored or not, lives are upended and providers are left scrambling. That's no way to run an education system. That's no way to build a solid foundation for thousands of children.  Our children's futures deserve more than yet another version of the budget dance."
However, it was former Councilman Sal Albanese, who last held office in 1997 and is hoping to overcome the perception he's a long-shot, who may have released the most fiery statement of them all.
"You can't manage a city like a kingdom or its workforce like serfs. Early in his tenure, Mayor Bloomberg made significant progress in putting the city on solid financial footing," Mr. Albanese said. "But his demonization of city workers proved to be both bad politics and bad public policy. From police to taxi drivers to teachers, he has failed to negotiate fair contracts and tossed a billion dollars in revenue in the trash. He broke his promise to taxpayers and to his successor, who will have to devote precious time to uplifting a demoralized workforce and crafting meaningful long-term fixes to our budget woes."