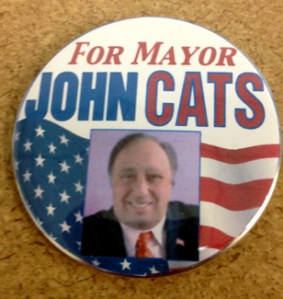 Billionaire grocery and oil magnate John Catsimatidis is set to formally announce his candidacy for mayor as a Republican in a few minutes on the steps of City Hall. Politicker has obtained a copy of the prepared version of the remarks Mr. Catsimatidis plans to deliver. His speech bills him as a native New Yorker who will use his wealth to be an "independent" leader for residents in all parts of the five boroughs.
"In 1949 my parents emigrated from Greece in search of a better life. … Like so many immigrants before and since, they came to our city with little money in their pocket and only a few words of English in their vocabulary. But, they came with a great deal of hope and a desire to work hard so I could have the opportunities they had been denied," Mr. Catsimatidis' speech says. "We settled in Harlem and my father found work as a bus-boy while my mother stayed home to care for me. We were poor and times were hard. … Now, 64 years later, I stand before you to formally announce my candidacy for mayor. I enter this race as a true son of New York; I gre up in its neighborhoods, I was educated in its public schools and I started off as a small businessman selling groceries to its people."
After describing his background, Mr. Castimatidis' speech frames his mayoral bid as stemming from a desire to "give back something to the city" that enabled him to live a life that "far exceeded the dreams I had as a young boy growing up on 135th Street."
"I want to be a mayor for all the neighborhoods of our great city; for Flushing and Canarsie, for Harlem and for Wall Street, for Riverdale and Throgs Neck, and for Tottenville and New Dorp," says Mr. Catsimatidis' speech. "I want to be a mayor who fairly represents all New Yorkers, whether you are a cab driver from South Asia, a bodega owner from the Caribbean or an aspiring actor from the Midwest."
Just as New York's current billionaire mayor, Michael Bloomberg, did when he ran for office, Mr. Castimatidis also plans to frame himself as insulated from political "cronyism" due to his vast personal fortune. His speech closes with a vow to remain independent and honest in the face of "special interests" and partisan politics.
"Unlike many of my opponents who are professional politicians and products of the cronyism of the political club house, I come to this race as an independent businessman who will offer commonsense solutions to the problems that affect New York," the speech says. "In the weeks and months ahead I will lay out my vision for New York. Policies that will provide a good education for our children, tax relief for our beleaguered middle class and safe streets for all New Yorkers. During my campaign, I will have the fortitude to speak the truth about the issues we face and you have my word that I will never bow to the special interests that put their personal needs before the needs and desires of the citizens of New York City."