Morning News Digest: January 30, 2013
By Matthew Arco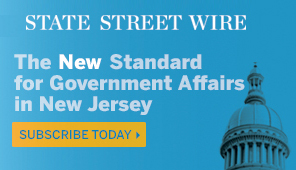 Dem sources pinpoint veteran Currie as possible state party chairman
Veteran Passaic County Democratic Committee Chairman John Currie has emerged as a possible new regime contender for the chairmanship of the state party, party sources say.
"I'd have to consider it," Currie told PolitickerNJ.com when asked if he would be interested in the position, offering no further comment. (Pizarro/PolitickerNJ)
http://www.politickernj.com/62776/dem-sources-pinpoint-veteran-currie-possible-state-party-chairman
Longshoreman's association member gets 30 months
A former International Longshoremen's Association ("ILA") member was sentenced to 30 months in prison today for conspiring to extort ILA Local 1235 longshoremen on the New Jersey piers for Christmastime tribute payments, New Jersey U.S. Attorney Paul J. Fishman and Eastern District of New York U.S. Attorney Loretta E. Lynch announced. (PolitickerNJ)
http://www.politickernj.com/62769/longshoremans-association-member-gets-30-months
Menendez donor Bigica pleads guilty to FECA violation
A Bergen County man admitted today to conspiring with his brother to violate federal election law in connection with contributions to a federal campaign committee, U.S. Attorney Paul J. Fishman announced.
Benedetto Bigica, 45, of Elmwood Park, N.J., pleaded guilty to an Information charging him with one count of conspiring to violate the Federal Election Campaign Act (FECA). (PolitickerNJ)
http://www.politickernj.com/62761/menendez-donor-bigica-pleads-guilty-feca-violation
Uncle Floyd won't run for governor this year, but he wants to see a good debate
Unlike 2009 when he sought petitions toward his own write-in bid for Drumthwacket, New Jersey's legend in a porkpie hat won't run for governor this year.
But Uncle Floyd said he wants a contest. (Pizarro/PolitickerNJ)
http://www.politickernj.com/62756/uncle-floyd-wont-run-governor-year-he-wants-see-good-debate
A glide path for the Christie re-elect?
New Jersey Democrats are beginning to line up behind an opponent to Chris Christie, but the funereal tone and ambivalence surrounding the race reveals the outlook for knocking off the popular GOP governor and prospective 2016 presidential candidate in November isn't promising. (Mahtesian/Politico)
http://www.politico.com/blogs/charlie-mahtesian/2013/01/a-glide-path-for-the-christie-reelect-155514.html
Barbara Buono, Chris Christie Challenger, Endorsed By Democrats
TRENTON, N.J. — You might not have heard of New Jersey state Sen. Barbara Buono, though you've probably heard of the man she's itching to take on in the November election – Gov. Chris Christie.
Expect to hear more about her. Buono picked up endorsements Tuesday from the Democratic Governors' Association, southern New Jersey's seven county Democratic Party chairs and the southern legislative delegation, thereby sewing up enough support statewide to become the Democrats' presumptive nominee for governor. (Delli Santi/AP)
http://www.huffingtonpost.com/2013/01/29/barbara-buono-chris-christie_n_2576837.html
Study: Poorest N.J. residents face biggest tax burden
New Jersey's poorest families pay more than 11 percent of their income toward state and local taxes, while the tax bite for the richest is about 7 percent, a study released Tuesday has found.
The study — conducted by the Institute on Taxation & Economic Policy in Washington — concluded that while the wealthy pay higher income tax rates, the lower brackets actually shell out a higher percentage of their pay when sales and property taxes are added to the equation. The institute found the poor are paying slightly more, and the rich slightly less, since its last study in 2007. (Hutchins/Star-Ledger)
http://www.nj.com/politics/index.ssf/2013/01/study_poorest_nj_residents_fac.html#incart_river
Christie set to return to N.J. after family trip
It might not be up there with who shot Jimmy Hoffa, whether life exists on other planets and the origins of Big Foot.
But the governor's curious whereabouts had a certain slice of Trenton buzzing this week. (Portnoy/Star-Ledger)
http://www.nj.com/politics/index.ssf/2013/01/christie_set_to_return_to_nj_a.html#incart_river
Christie: Where in the World?
Where in the world is Chris Christie?
And who is presiding over the land of his birth?
The 50-year-old Republican New Jersey governor, who is running for a second term, had plans to "depart the state" the night of Jan. 27, according to the public schedule his office released. The listing described Lt. Gov. Kim Guadagno as in charge for Jan. 26 and 27. (Young/Bloomberg)
http://go.bloomberg.com/political-capital/2013-01-29/christie-where-in-the-world/
President Obama signs $50B Sandy relief bill
President Barack Obama has signed into law a $50.5 billion emergency measure for Sandy victims.
Congress gave the measure its final approval late Monday. Obama signed it tonight, minutes after returning to the White House from a visit to Nevada. (AP)
http://www.nj.com/news/index.ssf/2013/01/obama_signs_50b_sandy_relief_b.html#incart_river
Republican Governors Association targets Buono
The race is on.
Hours after state Sen. Barbara Buono (D-Middlesex) shored up the last crucial pieces of support for her gubernatorial bid, the Republican Governors Association weighed in, noting that Buono was not Democrats' first choice. (Friedman/Star-Ledger)
http://www.nj.com/politics/index.ssf/2013/01/republican_governors_associati.html#incart_river
Menendez, Lautenberg eye aid for fisheries
WASHINGTON — The day after Congress approved $50.5 billion in relief for victims of superstorm Sandy, New Jersey senators began lobbying Tuesday to help a group they say was left out — fishermen.
On its way to final passage, the Sandy aid bill was stripped of $150 million intended to compensate recreational and commercial fisheries for recent disasters in New Jersey, New York and elsewhere. (Herman/APP)
http://www.app.com/article/20130129/NJNEWS/301290114/Menendez-Lautenberg-eye-aid-fisheries?nclick_check=1
Buono: I may have ruffled some feathers
State Sen. Barbara Buono, the beneficiary of a field cleared primarily by incumbent Republican Gov. Chris Christie, has all but captured the Democratic nomination for governor — 18 weeks before any vote is cast.
Although Buono has won election to the Legislature eight times in 18 years as a lawmaker from Middlesex County and is the first woman to be Senate majority leader, many Democrats have spent months searching for a candidate they felt would pose a stronger challenge to Christie, whose approval ratings have soared after superstorm Sandy. (Symons/APP)
http://www.app.com/article/20130129/NJNEWS1002/301290012/Buono-may-ruffled-some-feathers
Christie's backing of FEMA's Shore rules raises worries
Shore houses that have been in working-class families for generations will be abandoned. Property values will spiral downward, leaving Shore towns' budgets in tatters.
That is the dire scenario painted by a growing coalition of federal, state, and local officials along the Jersey Shore after Gov. Christie's announcement last week that New Jersey would adopt the federal government's preliminary floodplain maps – which would effectively require houses along large swaths of the Shore to be elevated to protect against future storm surges. (Osborne/Inquirer)
http://www.philly.com/philly/news/breaking/20130129_Christies_backing_of_FEMAs_Shore_rules_raises_worries.html
Comptroller: Burlco mayor used position to profit on land deal
The New Jersey comptroller is recommending strengthening the state's ethics laws after an investigation revealed that a longtime Burlington County official misused his position to reap hundreds of thousands of dollars from a nationally recognized farmland preservation program he helped create.
Comptroller A. Matthew Boxer said Tuesday that a probe into Chesterfield Township's program revealed that Lawrence C. Durr, a former mayor and planning board member, profited by using "his political influence and insider knowledge to push a complicated development project through multiple governmental hurdles." (Hefier/Inquirer)
http://www.philly.com/philly/news/breaking/20130129_Comptroller__Burlco_mayor_used_position_to_profit_on_land_deal.html
Protecting New Jersey's Waterfront Communities Against the Next Superstorm
As New Jerseyans consider how to build what Gov. Chris Christie calls a "21st century shore" in the aftermath of Hurricane Sandy, environmental scientists, regional planners and policymakers on the western side of the state said the "Restore the Shore" approach is too limited and will likely prove harmful to human and aquatic life.
Speaking at the Partnership for the Delaware Estuary's (PDE) biannual conference in Cape May this week, some of the nearly 300 attendees from New Jersey, Delaware, Pennsylvania, and elsewhere called on elected officials to better acknowledge storm-devastated waterfront communities beyond the shore and to realize that worsening long-term weather patterns guarantee that simply "restoring" damaged areas to their previous state will repeatedly expose them to destruction. (Nurin/NJSpotlight)
http://www.njspotlight.com/stories/13/01/29/living-reef01-30/
Bill Would Delay JCP&L Rate Increase Until BPU Wraps Up Probe
Jersey Central Power & Light isn't losing its dubious distinction as the utility that everyone seems to love to hate.
The state's second largest-utility, with approximately 1 million customers, should not be granted a rate increase until the New Jersey Board of Utilities resolves allegations that the company earned $90 million more than it should have in 2011, according to a bill introduced by a trio of Republican lawmakers. (Johnson/NJSpotlight)
http://www.njspotlight.com/stories/13/01/29/bill-would-block-jcp-l-rate-increase-until-bpu-wraps-up-investigation/
From the Back Room
Christie may take Raffano off the field of battle in battleground Middlesex
Gov. Chris Christie's intent to nominate Middlesex County Freeholder Director Christopher D. Rafano to a Superior Court judgeship Monday could take a solid Democratic Party brand name off the ballot in a battleground county.
Middlesex also happens to be Democratic gubernatorial challenger state Sen. Barbara Buono's (D-18) backyard. (PolitickerNJ)
http://www.politickernj.com/back_room/christie-takes-raffano-field-battle-battleground-middlesex
Baraka and the Newark Central High School question
South Ward Councilman Ras Baraka on Saturday kicked off the next stage of his campaign for Newark mayor with a YouTube video, and political opponents are already quietly seething over his venue choice: Central Ward High School.
In the video, Baraka speaks to his mayoral aspirations in a close quarters shot that shows a bulletin board in the background. (PolitickerNJ)
http://www.politickernj.com/back_room/baraka-and-newark-central-high-school-question
Opinion
Christie veto on minimum wage another blow to the working poor: Editorial
In a move that took no one by surprise, Gov. Chris Christie yesterday again disregarded the pressing needs of the working poor, this time by vetoing a bill to increase in the minimum wage.
That fits a pattern. His first budget effectively raised income taxes on low-wage families by scaling back the earned-income tax credit. He has also ended health care coverage for thousands of low-wage families, closed down Planned Parenthood clinics that served them, and tried his best to raid huge sums of money from a trust fund set aside for affordable housing. In each case, the target is the working poor. (Star-Ledger)
http://blog.nj.com/njv_editorial_page/2013/01/christie_veto_on_minimum_wage.html