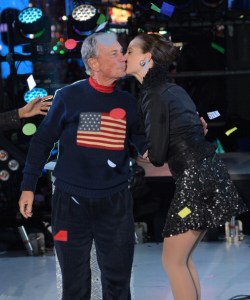 City Council candidate Mark Levine recently rolled out some labor endorsements in his bid to succeed the term-limited Robert Jackson, including the Mason Tenders District Council, who in a statement said he has "proven to be an incredibly effective advocate for working people," and UFCW Local 1500, which labeled the candidate "tenacious, persistent, and passionate fighter we need pushing the progressive cause."
The New York Times talked to former Mayor Rudy Giuliani about why Mr. Giuliani's preferred mayoral candidate, former M.T.A. Chairman Joe Lhota, is so amazing. The publication reports the two, "both Italian-American Catholics, remain close, their bond solidified by years of reciting lines from 'The Godfather.'"
And the New York Post wished Secretary of State Hillary Clinton a speedy recovery, while arguing it was justified in mocking her initial injury.
Blogger Gatemouth uncovered some interesting facts from the recent election using the officially certified results. Here's a snippet:
"PRESIDENT: In 2008, Barack Obama lost six ADs out of 65 in the city. Four in Brooklyn (45, 47. 48 & 49); one in Staten Island (62) and one straddling the Verrazano (then numbered 60, now numbered 64).

In 2012, he's down to four, as the 47th and 49th both went for the President…

US SENATE: In 2010, Kirsten Gillibrand lost three ADs in the City (45, 48 and 62). This time, she won every AD in the City."
He also analyzed the returns between State Senator Joe Addabbo and his unsuccessful challenger, Councilman Eric Ulrich electorally, to argue Hurricane Sandy hurt Mr. Ulrich, but not decisively so, and the vote totals from legislative districts with heavy Orthodox Jewish populations.