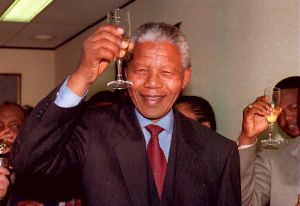 In his old age, South African freedom fighter Nelson Mandela is apparently doing battle with wine writers rather than oppressive regimes. The Wall Street Journal was forced to run a correction to an article that ran last week about South African wines, which included a mistake about Mr. Mandela's drink choices.
The story, which was about reporter Lettie Teague learning to appreciate Pinotage, a varietal with roots in South Africa, included mentions of wines made by the House of Mandela, a winery "conceived of and led by the women of the Mandela family." For her story, Ms. Teague sampled some of the wine produced by the Mandela family winery and spoke with a "press representative" to see whether the family's patriarch enjoyed the winery's Pinotage's. Her initial report apparently erroneously said Mr. Mandela preferred another variety to the Pinotage, which prompted the following correction:
"Nelson Mandela doesn't now drink Pinotage or any other wine and preferred sweet wines from South Africa, such as Vin de Constance, when he drank wine. An earlier version of this column incorrectly said Mr. Mandela didn't love Pinotage, which his winery's representative hadn't been asked, and incorrectly said Vin de Constance had been his favorite."
While Politicker was rather amused to read the correction, we were also saddened to learn in the story that the 94-year-old Mr. Mandela "no longer drinks for health-related reasons." After 27 years in prison and decades spent fighting apartheid, we can think of few people more deserving of a drink.