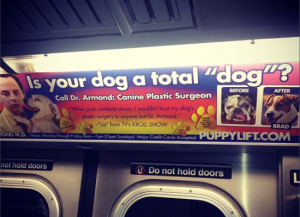 For anyone taking the subway lately, you might have noticed a familiar-looking ad. An angry-looking man offering his services for cosmetic surgery and a "free consultation." No, it's not Dr. Zizmor. It's Dr. Armond, a "canine plastic surgeon" character created by comedian Nick Kroll for his Comedy Central program, Kroll Show, which premiered last night. And no, the similarities are not an accident.
Mr. Kroll credits the Comedy Central marketing department for the brilliant parodies. "We had a meeting about how to get the word out about the show," the 34-year-old comedian told The Observer. "Halfway through the presentation, they were like 'We were thinking about Dr. Armond, and how he'd be a good fit for a Dr. Zizmor subway ad. We're not sure of you heard of him …'"
"I freaked out," Mr. Kroll said. "Mostly because Dr. Armond was more than inspired by Dr. Zizmor." Mr. Kroll grew up in Westchester and spent his formative years staring at the ads, which he called iconic.
It might seem like an obvious comparison: Dr. Armond looks and acts like Nick Kroll on Thorazine, and Dr. Zizmor, well, all we know about him is his grim smile and male-pattern baldness. But Mr. Kroll claims that while the characters might look different, they share a certain je ne sais quoi. "I can't describe the quality, exactly," he said. "It's this sort of expressionless, joyless pitch."
Watch: Dr. Armond on The Kroll Show, with Jenny Slate.
[protected-iframe id="01a8b9355167db6f3096a03287ed14e7-35584880-35147716″ info="http://media.mtvnservices.com/embed/mgid:arc:video:comedycentral.com:7c71d423-c939-4e40-bfbd-d98a8e21ccf0″ width="512″ height="288″ frameborder="0″]
Kroll Show
Get More: Comedy Central,Funny Videos,Funny TV Shows
As for reactions, Mr. Kroll hasn't heard anything from Dr. Z or his camp. (Leading us to wonder, is Dr. Zizmor still alive? Was he ever?) However, someone did send him a photo of Armond's ad right next to Zizmor's on the subway, which Mr. Kroll considered "truly one of the triumphs of my career."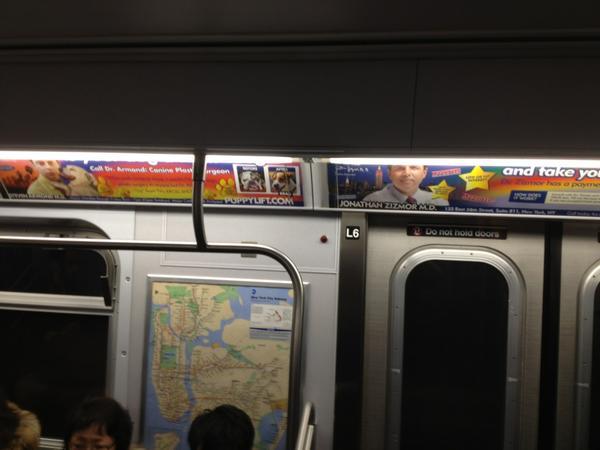 The ad was also placed in L.A., where residents have less experience with the terrible dermatologist. That explains Padma Lakshmi's reaction to the billboard. She snapped a shot and put it on Instagram, with the tag "I love LA. #ridiculous #creepy @ Pink Dot."
Mr. Kroll said he reached out to Ms. Lakshmi and she eventually got the joke. The next day, she replied to her own Instagram in a now-deleted message.
At least Mr. Kroll has a good sense of humor: