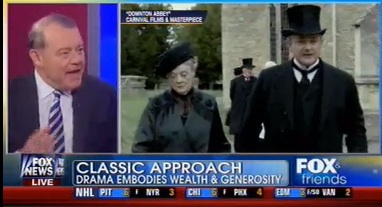 Props to Fox & Friends for finding something to talk about on this slow news day: Downton Abbey, the popular British upstairs/downstairs saga that runs on the (publicly funded) PBS network, might be the best weapon conservatives have in popular culture today!
According to maybe-British person Stuart Varney, the show is a massive blow to the politics of the left-leaning liberals who love it because the characters are rich…and nice. "Downton Abbey poses a threat to the left, does it not, Brian," Ms. Varney asks a thoroughly confused Brian Kilmeade. "The left says we got to hate these people, but popular America watches a show that says 'These people are okay!'"

[protected-iframe id="66a20ab291f3cc428ecb177d755be156-35584880-35147716″ info="http://videos.mediaite.com/embed/player/?content=LR96282MXH5QX7R4&layout=&content_type=content_item&playlist_cid=&media_type=video&read_more=1&widget_type_cid=svp" width="608″ height="421″ frameborder="0″ scrolling="no"]
Gretchen Carlson gets shut down for her suggestion that a)Not everyone in America hates rich people and b)Maybe people are just getting bored with the stupidity of reality TV and want to watch a smart program about people talking about historical events against a pretty backdrop.
"You can say all of that, but you miss the point," smarms Mr. Varney, missing the point. "You could dismiss it as high-class soap opera (Editor's Note: Uh…that's not what Carlson was saying), but that misses the point. The politics of Downton Abbey are important, and it's important that they are popular in America today."
The segment then spirals into one long SPOILER ALERT, so we won't even go there. But hopefully this delusional tirade will convince Rush Limbaugh or someone to start funneling money into PBS in the hopes that all liberals will inadvertently start becoming more conservative and pick up some cute, early 20th century English affectations to boot.