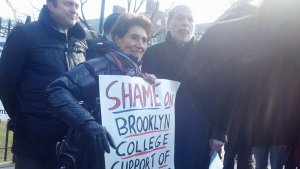 The Israel-Palestine conflict once again reached New York's political scene today as elected officials and other activists gathered to denounce Brooklyn College's political science department for their controversial decision to sponsor a February forum calling for boycotts, divestment and sanctions against Israel.  To say the press conference was heated would be an understatement as it was chocked full of charged rhetoric including multiple references to anti-Semitism, the Holocaust and al-Qaeda.
"Let me tell you, it brings back a lot of memories," Assemblyman Dov Hikind, the emcee of today's denunciation, began. "I studied here towards my B.A. and got my Master's at Brooklyn College, a lot of very fond memories. I stand here very, very disappointed, … students and the organization [are] holding a lecture next week with two viciously, viciously, anti-Israel [speakers]. And when I say 'viciously,' I mean they call for the destruction of the state of Israel. They think Hamas and Hezbollah are good organizations. I would assume they feel the same way about al-Qaeda. These are individuals who are extreme radicals."
Mr. Hikind and his fellow elected officials were not calling for the forum itself to be canceled, however. Their issue was the school, which is part of the publicly-funded City University of New York system, sponsoring the event. Though college representatives have denied the school's sponsorship indicates an endorsement of the forum's views, that argument was not accepted by the various officials at today's rally.
Councilman David Greenfield, labeling the forum as part of a "hate-filled, antisemitic, pro-terrorist movement," even brought out his dictionary to counter the college's defense of the forum.
"This is the United States of America, if you want to be a racist, if you want to be an anti-Semite and even if you want to speak out in favor of terrorism, we respect that you have the right to do that. Of course, you're wrong, but you have the right to do that and should have the right to do that on a college campus," Mr. Greenfield explained. "The problem is–and this is what's oh-so-very-offensive to me–is when the administration turns around and says, 'Well, we're not endorsing these views, we're simply sponsoring the event.' I mean, it's a little bit shocking, honestly. … The word 'sponsorship' according to the dictionary means 'one who who vouches or is responsible for another thing.' So it really is intellectually dishonest."
Others at the event invoked Nazi Germany and the Klan as they attacked Brooklyn College for its sponsorship of the forum.
"As a child of Holocaust survivors, I will not remain silent," Assemblyman Steve Cymbrowitz declared.
"If David Duke were here, I'm sure President Gould would be outside protesting as well. This is not just an academic exercise on the part of the political science trying to teach some political science," Assemblyman Alan Maisel added. "The destruction of Israel has real consequences. That would mean that the millions of people living in Israel would not have a state. It means that it would be open house on all of the people who live there. We are talking about the potential of a second Holocaust."
Today's event also drew a leading mayoral candidate, former Comptroller Bill Thompson, who described the upcoming event at the college as a "forum of hate."
"We all stand here in support of free speech. We believe in being able to express your opinion. We believe in students being able to express their opinions. We believe in different points of view," Mr. Thompson announced. "It's what makes this country so great. You can express your opinion. So let me express an opinion against that. This organization is one that expresses hate, that expresses opposition to Israel. I have the right to stand here, and oppose that organization. … You have the right to express an opinion just like we do. But you do not have have a right, and should not put, the name of Brooklyn College, the name of the political science department, on that forum of hate."
Speaking on behalf of the school about today's press conference, Brooklyn College spokesman Jeremy Thompson dismissed the controversy over the forum as simply different groups expressing opposing views.
"As far as the press conference being held, my only comment is, just like we stand behind our students and faculty who have a right to present views and discuss topics they see as important, so do the assemblymen," Mr. Thompson told Politicker when reached for comment. "They are well within their right to voice their views, just as everyone in our college community is."
Despite all of the angry rhetoric, Mr. Hikind wrapped up the event by suggesting the officials in attendance could have been much harsher in their condemnation of Brooklyn College.
"You've heard the calmest presentation today [from] people who care deeply about Israel. They're not calling here to cancel the event. That's not what they're saying! Boy! How calm and reasonable is that?" the assemblyman exclaimed as he made his final points. "It should not be sponsored by the university itself because that means my dollars are paying for that event and I'm not interested in paying for hate. … They're giving the seal of approval, they're making it kosher. It's not a kosher event."
Additional reporting by Ross Barkan.