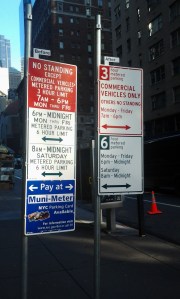 Twitter has changed the way we communicate, and now it may change the way we drive, at least around Midtown.
This morning, the Department of Transportation unveiled new parking signs that greatly simplify and clarify on-street parking regulations. As Tranportation Commissioner Janette Sadik-Khan joked, "We used to have signs with 250 character on four different signs in three different colors. Now we can say it in about 140 characters on a much clearer sign."
The new signs, common throughout the city's business districts, now feature two separate but similar sections, one for commercial vehicles (in red font) and one for passenger vehicles (in green). There will be 6,300 new signs deployed in the coming months in Midtown, roughly between 14th and 60th streets and Second and Ninth avenues. Similar signs will come to the Financial District at a later period, and then on to the outer boroughs' main commercial areas. The city began rolling out the new signs in October, and 450 have already been installed.
Related: Michael Bierut diessects his new signs and why Helvetica never would have worked >>
Unlike the old signs, which were in a mishmash of colors, fonts and styles, the new ones are in a unified format, putting the length of time for parking first, then the days and times. And no longer are they the creative work of the Department of Transportation's sign shop, but instead a collaboration with Michael Bierut and a team at Pentagram. Among the small but important innovation are the formatting of the signs and the location of the font (justified left, rather than centered, which is considered more legible).
"It shouldn't take a PhD in transportation to understand these signs," Ms. Sadik-Khan.
City Council Speaker Christine Quinn said the new signs would help not only reduce confusion on the streets but also save New Yorkers money. "One of the great things about these signs is they will result in fewer parking tickets for New Yorkers," Ms. Quinn said. "No longer will you say, 'Wait a minute, I thought the sign said you could park there.' These signs will make sure that what you see is what the rules are."
The signs came about after Councilman Dan Garodnick, who represents parts of Midtown and the Upper East Side, proposed a bill to make them clearer. "I always had constituents coming up to me and complaining about how confusing the signs are," he said. When the department heard about the bill, Ms. Sadik-Khan said she told Mr. Garodnick "why bother with legislation," and they set out to come up with new signs.
He said this served an important civic purpose, as well. "The sad part of it is, people deliberately think the city is deliberately trying to confuse them" in order to trick them into tickets," Mr. Garodnick explained.
While the signs may not seem like much, Ms. Sadik-Khan said she views them as equally important as paving new streets, laying down bike lanes or creating pedestrian plazas. "Reducing the clutter and bringing clarity to the rules greatly improves the look of our streets," she said.