Everyone's favorite Renaissance man and cycling enthusiast David Byrne is gearing up for yet another run in with the Public Design Commission, slated to defend his latest creation for the Brooklyn Academy of Music.
His most recent creation—alphabet-shaped bike racks outside the Brooklyn Academy of Music—are alphabetical letters than can be rearranged in any order. They are currently arranged to form the phrases "MICRO LIP" and "PINK CROWN" (just go with it—it's avant-garde).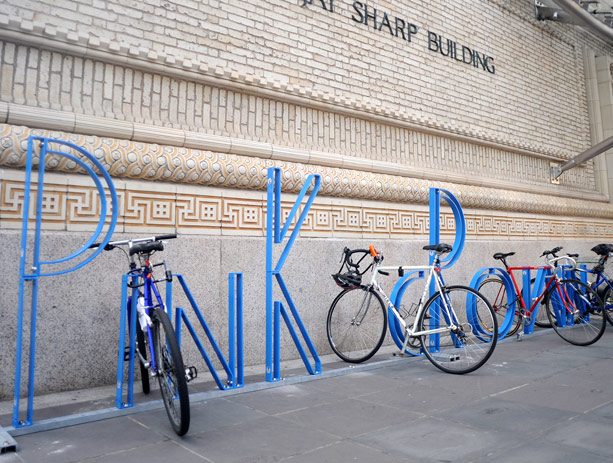 If Mr. Byrne wants his new bike racks to permanently serve the needs of music-loving hipsters in Fort Greene, he'll have to win the approval of New York's Public Design Commission.
Unfortunately for Mr. Byrne and the bike rack-starved people of BAM, the Public Design Commission hasn't always approved of his rack designs.
In case you didn't know (in other words, in case you're not a cycling enthusiast with an ironic enthusiasm for 1980s New Wave music), Mr. Byrne already has nine of his bike rack designs stationed throughout Manhattan and Brooklyn.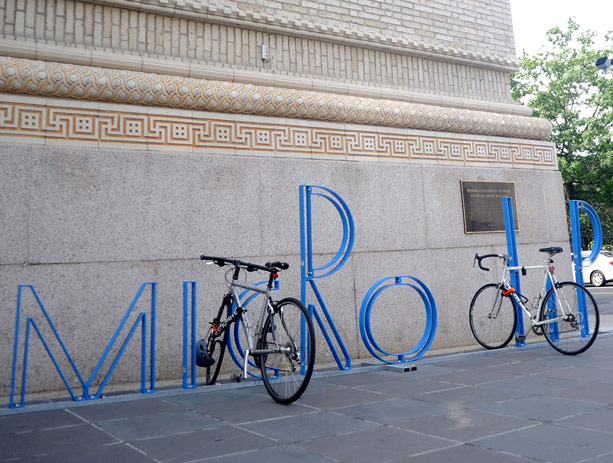 Though the city approved nine of his bike rack designs back in 2008, it rejected a bike rack he designed in 2010. Shaped like a bottle of Thunderbird, the rack was "deemed to be in bad taste."
On his personal blog—which, we warn you, is a strange place—Mr. Byrne refers to the Public Design Commission as "cultural gatekeepers," and blames trivial bureaucratic politics for its decision to nix the project. Evidently, it's been quite the artistic war.
Nevertheless, BAM President Karen Brooks Hopkins hopes the artsy racks are there to stay.
"BAM is at the center of a neighborhood that is brimming with bike activity," she said. "We are excited to offer these additional racks to our audience and the community."
Tonight at 6 p.m., Brooklyn's Community Board 2 will review the BAM bike racks for recommendation to the Public Design Commission.
So good luck, Mr. Byrne! May no one in the Public Design Commission discover that your BAM bike racks can be re-arranged to spell "I WORK PIMPIN'."