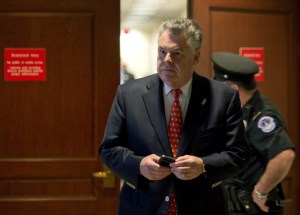 In the wake of the House of Representatives' failed vote on Hurricane Sandy relief, Congressman Pete King has gone rogue.
"These Republicans have no problem finding New York when they're out raising millions of dollars," Mr. King said on Fox News this morning. "They're in New York all the time filling their pockets with money from New Yorkers. I'm saying right now, anyone from New York or New Jersey who contributes one penny to congressional Republicans is out of their minds. Because what they did last night was put a knife in the back of New Yorkers and New Jerseyans. It was an absolute disgrace."
Mr. King went on to almost describe himself as a Republican without a conference in the GOP-controlled chamber.
"As far as I'm concerned, I'm on my own," he said. "They're going to have to go a long way to get my vote on anything."
Mr. King, who represents a Long Island district hard-hit by Sandy's path, was hardly the only legislator to rage at his party over the situation either.
"It is with an extremely heavy heart that I stand here almost in disbelief and somewhat ashamed," Staten Island Republican Michael Grimm said. "I am here tonight saying to myself for the first time that I am not proud of the decision that my team has made."
Many New York and New Jersey Democrats piled on as well, using words like "unconscionable," "ashamed," and "disgusting."