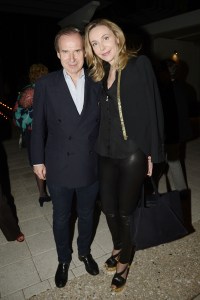 Two Fridays ago, just before the art world split for the holiday break, news broke that has had even market insiders, in vacation spots from St. Moritz to St. Barts to Aspen, scratching their heads: Simon de Pury, who has been very much the public face of the Phillips de Pury & Co. auction house for the past 12 years as chairman and head auctioneer, was parting ways with the company, effective immediately. Mercury, the Russian luxury goods firm that bought a majority stake in the company in late 2008, had acquired Mr. de Pury's remaining shares, a press release announced. In January, the 200-plus-year-old company's name will go back to Phillips. An e-mail sent to art world colleagues by Mr. de Pury's wife, Michaela Neumeister, a specialist at Phillips for 12 years, indicated that she, too, was departing.
The press release came with statements from Mr. de Pury and Phillips's CEO, Michael McGinnis. But still, many were puzzled. One person who saw Mr. de Pury shortly after Art Basel Miami Beach, which ran the first full week of December, told Gallerist, "Surely I would have gotten some vibe from him. But I didn't. I'm baffled."
Last Friday, a week after the news was announced, Gallerist spoke with Mr. McGinnis, Phillips's longtime head of contemporary art, who was promoted to CEO in early October. Mr. de Pury's departure, he said, did not come as the result of any agreement to leave after he stayed for a period following Mercury's initial majority stock purchase; it simply coincided with the final buyout of his stake. "As a partner myself in that transaction," Mr. McGinnis said, referring to the initial purchase by Mercury, "every partner had an obligation to stay [for a certain period of time]. The expectation was that everyone would continue working and being productive. None of the partners were given a time line according to which they then had to depart." His understanding is that Mr. de Pury even stayed longer than he was required to. It was a friendly parting, he said, and there may even be projects Phillips works on with its former chairman. "He left on completely amicable terms," Mr. McGinnis added. "There is nothing to say we won't collaborate going forward. We've had an amazing relationship."
Mr. de Pury's stint at Phillips has been an eventful one, as the company struggled to find its niche. He made his first appearance there in November 2000, as a guest auctioneer. The company had been purchased by the Bernard Arnault-owned French luxury goods conglomerate Louis Vuitton Moët Hennessy (LVMH) the previous year, and Mr. Arnault clearly had plans to make the house competitive with Christie's and Sotheby's. In June 1999, LVMH hired Mr. McGinnis away from Christie's to start a contemporary art department. ("I left there on a Friday and started at Phillips on Monday," Mr. McGinnis recalled.) Bringing in Mr. de Pury was another sign of ambition: he was a powerful, charismatic figure in the auction world, a former chairman of Sotheby's Europe who had left in 1997 along with a Sotheby's colleague, Daniella Luxembourg, to start De Pury & Luxembourg, a private art dealership in Zurich.
Phillips turned out to be anything but a temporary gig for Mr. de Pury. A few months later, it was revealed that at the time of that November auction, LVMH had already been in talks with him about acquiring De Pury & Luxembourg and merging it with Phillips. The new company was christened Phillips, de Pury & Luxembourg, and Mr. de Pury was appointed chairman. There would be a full roster of sales in Impressionist and modern art, contemporary art, jewelry, watches, 20th- and 21st-century design, photography and European furniture. Some high-profile sales were staged, and a snazzy new headquarters opened on 57th Street, but all was not well. The bursting of the dot-com bubble and the aftermath of September 11 resulted in an art market slump—and LVMH was rumored to be losing money on its investment in Phillips. In 2002, the company sold its majority stake, and Mr. de Pury and Ms. Luxembourg acquired a majority stake of 72.5 percent. Mr. de Pury named his then-girlfriend, multimillionaire Louise MacBain (now publisher of Art+Auction magazine), as CEO.
It was a tumultuous year. In July, the French and Continental furniture division was shut down, and in December Ms. MacBain departed. A month later, LVMH completed its financial pullout, with Mr. de Pury and Ms. Luxembourg purchasing the remaining 27.5 percent of the shares. There were layoffs—mostly of administrative staff—and the company left its posh 57th Street building for a warehouse-like space on 15th Street in Chelsea. In early 2004, Ms. Luxembourg left to start her own firm as a private dealer. She sold her stake in Phillips to Mr. de Pury, and the company's name changed once again, to Phillips de Pury & Co.
Under Mr. de Pury's leadership, the house, holding sales in photography, design and contemporary art, has turned its focus in large part to young artists—and young collectors. To tempt newbie buyers, he introduced the Saturday@Phillips sales, with lots that started at a mere $500 and were capped off at $20,000. In October 2006, the height of the market boom, during the annual Frieze Art Fair in London, Phillips opened a 40,000-square-foot space there. Without the high overhead and bureaucracies of the big two, Sotheby's and Christie's, Phillips has been able to be a bit more nimble. At Mr. de Pury's direction, the company began representing the estates of deceased photographers Guy Bourdin and Helmut Newton, as well as a living one, Annie Leibovitz.
But in fall 2008, with the onset of the global financial meltdown, Phillips, like the other auction houses, stopped offering guarantees—financial agreements with consignors that essentially ensure that an artwork will sell—and grim results followed, along with speculation that the company's days were numbered. Mr. de Pury, however, always seemed able to pull something out of his hat to help keep the company afloat. Along the way, he made some unconventional arrangements, such as one with London's Saatchi Gallery whereby Phillips sponsored the gallery in becoming admission-free and proprietor Charles Saatchi apparently informally agreed to consign artworks he wanted to sell to Phillips.
When the financial crisis hit, Phillips was still, as The Art Newspaper put it at the time, "a private company majority owned by Simon de Pury and ten partners." In November 2008, the company announced that a majority stake had been sold to the Russian luxury goods company Mercury Group; Portfolio magazine reported that some $60 million was rumored to have changed hands. Shortly after acquiring its shares, Mercury brought in Bernd Runge, formerly of Condé Nast, and at one time a spy for the East German Stasi secret police, as CEO. (Mr. Runge stepped down to an advisory position when Mr. McGinnis was promoted to CEO in October 2012.) Those guarantees returned. In November 2010, Phillips opened new headquarters at 450 Park Avenue with an eyebrow-raising contemporary art auction called "Carte Blanche," with lots handpicked by art adviser and former Christie's department head Philippe Ségalot.
AN ENERGETIC MAN in his early 60s, it seems unlikely that Mr. de Pury will leave the art world; he has spent his life in it. A 2011 profile in W magazine describes how, as a young man, the Basel, Switzerland-born Mr. de Pury wanted to be an artist, but couldn't get a foothold with the big New York galleries like Castelli. He began his career in the art market at Sotheby's, then became curator for the powerful collector Baron Heinrich Thyssen-Bornemisza. He returned to Sotheby's in 1986, and worked his way up to become European chairman.
In 2006, The Art Newspaper characterized his auctioneering style as "pure theater. Bounces onto the rostrum and brawls the bids, bobbing up and down, occasionally dropping to a hoarse rasp to vary the pace. Auctions in three languages." His speed was assessed as "breakneck. Stay alert or you'll miss the bid." The article praised Mr. de Pury for maintaining his confidence and professionalism during a low point for Phillips, in November 2002, just after LVMH had sold its majority stake, when he conducted an auction estimated to bring in $49 million to $62 million but that ended up totaling just $7 million.
His flair for drama has not, of course, been limited to the auction room. A June 2010 party in London for some 600 art-world insiders to celebrate his marriage to Ms. Neumeister came complete with interactive performance art by Jennifer Rubell that featured bride and groom getting ready in transparent glass dressing rooms (and Mr. de Pury smashing the glass walls of both with a hammer) and food served on unmade beds. Shortly after Mercury bought its shares, Mr. de Pury appeared in the short-lived Bravo competition reality show Work of Art, for which he served—somewhat improbably, given his European formality—as a Tim Gunn-type mentor figure.