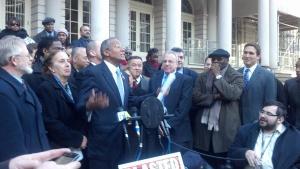 Last Friday, Mayor Michael Bloomberg, frustrated with the current state of contract negotiations with the city's teachers union, caused a political dust-up when he compared the leadership of the influential United Federation of Teachers to the National Rifle Association. Now, other New York City politicians are demanding an apology.
"Teachers want to work with the best, and most of them are not in sympathy with the union," Mr. Bloomberg had said before pivoting to one of his preferred talking points when he pushes for tougher federal gun laws. "The N.R.A's another place where the membership, if you do the polling, doesn't agree with the leadership."
Michael Mulgrew, the President of the U.F.T., said he was so infuriated by this comment that he organized today's press conference on the topic.
"What he did Friday, comparing us to the National Rifle Association at this point in time is just wrong," Mr. Mulgrew declared. "The demonizing of teachers in New York City by this mayor has now reached an all-time low. It's just a very, very sad day."
American Federation of Teachers President Randi Weingarten further blasted Mr. Bloomberg for the comment in the context of the recent massacre in Newtown, Connecticut.
"This was disgusting, the mayor was wrong," Ms. Weingarten exclaimed. "It is shameful for the mayor to use that kind of analogy in a collective bargaining spat….Do not denigrate either the teachers or the tragedy that just happened in Sandy Hook. And that's why I'm asking the mayor–asking the mayor!–to apologize."
Joining Mr. Mulgrew and Ms. Weingarten today was a small army of elected officials, including three of the four leading Democrats campaigning for mayor next year, using terms like "lowest possible insult" to describe the N.R.A. reference. The fourth, Council Speaker Christine Quinn, could not attend, but a Quinn staffer was present and handing out a statement condemning the comment.
Of course, apologies from Mr. Bloomberg are relatively rare, so Politicker asked Mr. Mulgrew if he actually expected to get one.
"I would expect to get the apology," he replied after a pause. "If he doesn't, so be it. We'll continue to move on."