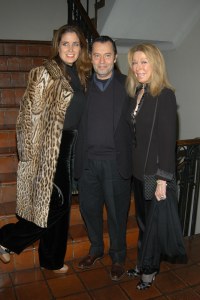 As president of HBO films between 1999 and 2008, Colin Callender was responsible for helping to erase, or at least lessen, the grimace caused by the words "made for TV."
Maybe he and wife Elizabeth Callender can help do the same thing for the somewhat staid environs of Upper East Side? The pair just bought a four-bedroom, four-bath floor-through at 3 East 84th Street.
The producer, who left HBO to start his own company—Playground Entertainment—is obviously making a decent go of things beyond the boob tube behemoth. City records show that the couple paid $4.7 million to take possession of a co-op boasting a double living with French door windows opening to a Juliette balcony, a large formal dining room and an "warm and inviting library." Where guests can retire after the meal with brandy and cigars?
The price was a bump above the $4.49 million that the apartment was asking when it was listed on October 12 with Brown Harris Stevens brokers Lisa Lippman and Scott Moore. But apartments going over ask is not entirely unheard of in estate sales, especially in situations where relatives are eager to sell and price accordingly. In less than a month, the co-op, belonging to the Estate of Rita Gorman was in contract.
The fact that this listing is "in perfectly pristine condition"—which is not the case with many estate sales—might have helped it go especially fast. And we're sure that the four bedrooms—a master, two other generously proportioned bedrooms and a double staff/laundry room appealed to the Callenders, who have three children between them.
The design of the place may not be as chic as the two-bedroom at 120 Central Park South that producers Kathleen Kennedy and Frank Marshall just vacated, but then, the magnificently sleek decor failed to convince the power couple stay put. Of course, producers are always looking for the next big thing.
kvelsey@observer.com