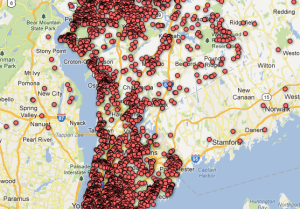 Putnam County doesn't want to help the Journal News newspaper with its map of gun owner's home addresses. To make the controversial map, the newspaper used addresses obtained from a Freedom of Information Act request for pistol permit records from Westchester and Rockland Counties. They made a similar request in Putnam, but  County Executive MaryEllen Odell and County Clerk Denis Sant plan to announce their decision not to release the records at a press conference this afternoon.
Ms. Odell and Mr. Sant will be joined by State Senator Greg Ball, who called the paper's editors "asinine" for publishing the map, which has caused nationwide controversy, in a strongly-worded statement last week. Mr. Ball's office sent out an advisory about the conference yesterday.
"Senator Greg Ball will join Putnam County Clerk, Dennis Sant and other officials on Thursday at the Putnam County Clerk's office to announce that Putnam County will not be releasing the records of Putnam Pistol Permits to the Journal News," the advisory said.
When the paper initially published the maps of the homes of gun owners in Westchester and Rockland, a note was included that said the map of Putnam would be forthcoming because the County was "still putting together its records and could not immediately provide any data." The press conference in Putnam County is scheduled for noon at Mr. Sant's office.