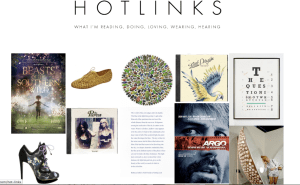 Today, Beyonce launched her lifestyle blog, The BeyHive Blog, adding to the superstar's tech takeover, with her eponymous website, her sleek Tumblr and her sometimes politically loose-mouthed Instagram.
Fresh off her scintillatingly sung, er, reportedly lipsynched, rendition of the Star Spangled Banner during Monday's Presidential Inauguration, her Sasha-Fierce-ified GQ February cover and her upcoming performance at the Super Bowl XLVII halftime show, the Second Lady took a digital breath to share something special with her fans: a weekly digital glimpse into the mind of Bey.
In a letter on her website today, Beyonce wrote:
"The BeyHive Blog is my way of showing all the inspiring things I come across every single day. This is through my eyes." She also writes that she'll be featuring fan art on the blog:
"So many of you are making videos, painting—I want to show the world what you do and how much I appreciate you."
Inside her perfectly-tressed noggin this week? A Rebecca Solnit tome, Oscar-buzzed films Argo and Beasts of the Southern Wild, Christopher Marley beetle-mosaic art, a psychedelic pop duo, Oliver Clegg paintings …
Oh, and shoes.
The blog requires setting up a free account, upon which fans can fully access the Bey-spiration: her picks for inspiring people, streetstyle snaps and maybe, just maybe that macaroni-bedazzled-portrait you've always wanted to send her.
Bey's blog arrives post-Goop (by a certain blond pal fond of naming her kids after biblical tropes) and also features the same glossy, hyper-curated style of a certain lifestyle website by a Mr. Beyonce Knowles (a.k.a. Jay-Z).
Not that we would expect anything less from the multifaceted Bey, the only downside is the weekly release date.
Whatevs. We'll be waiting with Bey-ted breath.