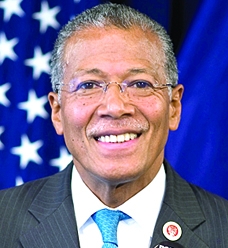 Over the weekend, Thomas Lopez-Pierre, an uptown activist who has been running a Council campaign characterized by a series of angry, racially charged emails sent another missive endorsing Robert Jackson, the man he's trying to replace. Mr. Jackson is prevented by term limits from running for re-election to his council seat and is instead pursuing the Manhattan borough presidency. However, Mr. Jackson is clearly not eager to have Mr. Lopez-Pierre's endorsement.
"We totally reject Thomas Lopez-Pierre. Throughout his life, Robert Jackson has been a leader fighting for justice and understanding and against bigotry and intolerance," Richard Fife, Mr. Jackson's spokesman, said in a statement. "He has condemned the racist, anti-Semitic and homophobic rants of Lopez-Pierre in the strongest way possible."
Mr. Lopez-Pierre's earlier emails have targeted Mark Levine, one of his rivals in the race to replace Mr. Jackson, as a "a White/Jewish candidate" who, if elected, would potentially damage "the political empowerment of the Black and Hispanic community" in the Upper Manhattan council district. He has also blasted Brian Benjamin, an uptown realtor, as an "Uncle Tom" who "sold out the Black people of Harlem" by supporting Mr. Levine. Mr. Lopez-Pierre's latest message came after Mr. Jackson responded to his initial missives by joining with other area politicians by signing onto a "Say No To Hate" petition condemning "the use of discriminatory language and rhetoric in all 2013 New York City political races" and issuing a joint statement "condemning the hateful language used by Thomas Lopez-Pierre" that referred to his emails as "despicable" and "shameful."
In spite of Mr. Jackson's harsh criticism of him, Mr. Lopez-Pierre said he is eager to support Mr. Jackson's bid for the Manhattan borough presidency in his latest email.
"I plan to vote for you and encourage my Black and Hispanic supporters to vote for you (and encourage my contributors to give to your campaign, please advise me on who I should speak with about contributing to your campaign) as the next Manhattan Borough President," Mr. Lopez-Pierre wrote. "Yes, you can consider this email an official endorsement from Thomas Lopez-Pierre for your campaign for Manhattan Borough President."
Mr. Lopez-Pierre's endorsement email also addressed Mr. Jackson's joint statement against him. While he said he agreed in principle with the statement's sentiment that the Upper Manhattan council district draws "strength" from being "one of the most diverse in the city," Mr. Lopez-Pierre said Mr. Jackson's statement did not recognize that, in practice, "White/Jewish" and "Asian residents" pose a threat to black and Latino members of the community.
"For Black and Hispanic tenants in the 7th Council District, the so called diversity you speak of in your 'Joint Statement' means that Black and Hispanic tenants get pushed out of their apartments to make way for White/Jewish people and other high income people," Mr. Lopez-Pierre wrote. "What you failed to mention in your 'Joint Statement' was that the White/Jewish people moving to Upper Manhattan are NOT moving here to live in social-economic peace, in brotherhood with low income Black and Hispanic people–but they are here to push out low income Black and Hispanic people out of their own community."
Along with his critique of the joint statement and his endorsement of Mr. Jackson, Mr. Lopez-Pierre's latest email contained more harsh words for Mr. Levine and Mr. Benjamin. The joint statement and petition were among many negative reactions to Mr. Lopez-Pierre's first messages about Mr. Levine and Mr. Benjamin, but Mr. Lopez-Pierre claimed the situation had help him raise money for his council campaign [sic throughout].
"My public comments about Brain Benjamin has been very good for fundraising–you be surprised by how many people know Brain Benjamin and do NOT like him (for the rest this campaign, I plan to use Brain Benjamin as my very own campaign ATM machine – and Mark Levine, I am saving the best for Mark Levine)," wrote Mr. Lopez-Pierre. "To be fair to Brain Benjamin more people dislike Thomas Lopez-Pierre than they dislike Brain Benjamin – but give me time, I am sure that I can close the gap to within 40 points by Primary Day. If I may add, Brain Benjamin dates some of the best looking women in NYC – and he does NOT discriminate base on race: Black, White, Asian and Hispanic, he has sex with them all! For a short little man, he does have great taste in women–please make it a point to check out anyone of the many hot women he has on his arm and that share his bed–they all have two things in common – they are hot looking and they tower over him like the Harlem State Office Building on 125th Street and 7th Avenue."
According to the latest data from the New York City Campaign Finance Board, Mr. Lopez-Pierre has raised $8,239 for his council bid in the past six months.