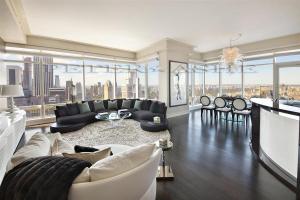 Businessman James H. Dahl and wife Kathleen have decided to bow out of their three-bedroom, 3.5-bath condo at One Beacon Court, the tower beloved by businessmen everywhere. While another building may have taken the Dahls' departure personally, we're sure that One Beacon Court wasn't offended at all. How could the totally professional tower begrudge the couple for making $8 million on the sale of their condo? Especially when the sale set the price per square foot record for the building?
Mr. Dahl, who is founder of the Florida-based Rock Creek Capital, an environmentally-focused investment fund, paid just $5.49 million for the condo back in 2005, according to city records. In the intervening years, like a wetland on the edge of burgeoning suburb, its value went up considerably.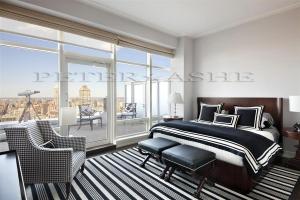 The Dahls listed the unit for $14 million in August with Peter*Ashe's Asher Alcobi and Halstead's Bruce Silverman. It sold for just under the ask—for $13.57 million—with the closing scooting in on December 28, according to Mr. Alcobi, avoiding a higher capital gains tax for the Dahls (another business coup).
At just 2,415-square-feet, the sales price set a new record for One Beacon Court of $5,622 per square foot. In October, a unit on the 48th floor sold for $4,870 per square foot. The buyer was an LLC named, predictably, after the building. Mr. Alcobi said that it was a foreign businessperson, but declined to provide more details.
So how did the Dahl's three-bedroom unit manage such a high sales price? Mr. Alcobi attributed it to the "a very unique position" in the building with "a wall of windows overlooking Central Park and a 750-square-foot terrace that runs the length of the apartment.
The location on the 32nd floor—the building's first residential floor. Mr. Alcobi said that not only did the 32nd floor house the mechanicals, raising the ceiling height to 11-feet-six inches. But as the first residential floor, it had express elevator service and the height, due to all the commercial floors before, was a high as the 50th floor in other buildings.
One Beacon Court saw a flurry of sales in the last quarter of 2012, including a $7.2 million purchase by Deutsche Bank boss Anshu Jain.
kvelsey@observer.com