You get an iPad! And you get an iPad! BuzzFeed cofounder Jonah Peretti has certainly been in the celebrating mood this week (and for good reason). Emily Fleischaker, editor of BuzzFeed's Food vertical, tweeted that Mr. Peretti handed out iPad Minis to the whole staff for meeting their traffic goal. (Paging the Betabeat boss!)
BuzzFeed also Instagrammed a photo of Mr. Peretti donning said shirt and drinking what appears to be a beer. YOLO, we suppose.
New Year, New Guilt On January 2, even as many attempted to turn over various new leaves for 2013, Anil Dash had to go and remind us all that despite our best Code Academy-inspired intentions, barely anyone actually learned to code last year. He tweeted, "So did anybody learn how to program after signing up for New Year's resolution lessons last year?" Judging by the @replies, there are quite a few people no closer to Javascript mastery than they were 12 months ago.
If you're looking for some other promises to break this year, Get Instinct and Greatist will want to teach you how to be healthier and play guitar.
Jammin' The improvisational warhorses of Phish played several shows at Madison Square Garden this week, including New Year's Eve–and it seems several local techies turned out. Among the attendees: Aviary cofounder Michael Galpert, IA Ventures' Ben Siscovick, and GroupMe cofounder Steve Martocci, who found this appropriately psychedelic photo on his camera the next day: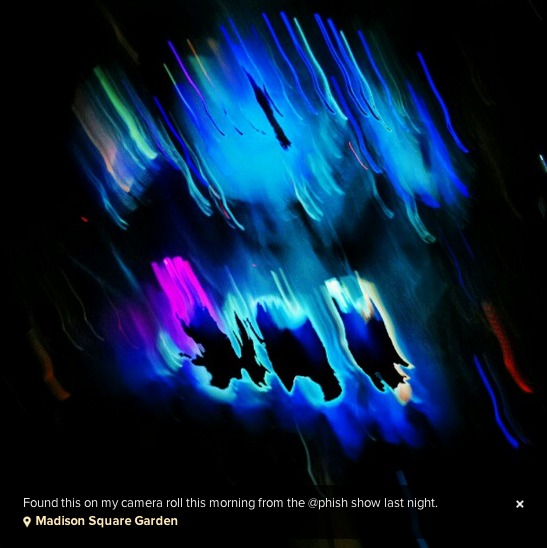 Trippy!
Missing in action was CrowdTap marketing director Ben Kessler, who took to Twitter to lament his absence: "Wish I caught Phish this run but I'm sooo tired. Maybe we'll get some Hampton shows?" Nothing like being sunburnt and baked.
International Relations When last we checked in with Art.sy, a high-brow Pandora for fine art, the well-capitalized startup was hosting a beachside barbecue at Art Basel attended by Lenny Kravitz and a rompered, dancing Demi Moore. Things took a much darker tone today, however, when the company announced that it had permanently moved its URL from art.sy to artsy.net to avoid potential outages related to the civil war in Syria.
In a press release, Art.sy said, "The move comes following an outage with our art.sy domain, which was down for a period of 36 hours this week due to an issue with DNS servers in Syria." As has been widely reported, the authoritarian Syrian government is behind recurring Internet blackouts in an attempt to suppress activists.

In response to questions from Betabeat, a representative said all of Art.sy's servers were in the U.S., but added, "We also did not want a domain that could be construed in any way as supporting the Syrian government." Why not the more logical Artsy.com? The site "was not available," said the company spokesperson. Whoever is sitting on the domain must be asking a pretty penny, if  investment* from the likes of Wendi Deng, Eric Schmidt, and Jack Dorsey wasn't enough to tempt them.
Art.sy also announced that it was "simplifying" its name to Artsy. Perhaps startup names with a dot.suffix are going the way of CamelCase as well?
Chapel Check-In It's not just your high school friends updating their Facebook statuses to "Engaged" lately. Foursquare founder Dennis Crowley proposed on a dark stretch of beach to his longtime girlfriend Chelsa Skees this week. "She said yes!" he tweeted. And check out that rock:
*Disclosure