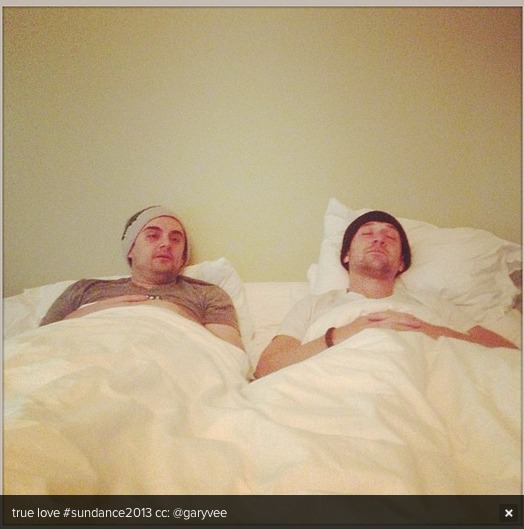 Sundancing in the Dark South by Southwest is basically right around the corner, but it seems several techies needed a break before March offers the excuse for a tax-deductible trip to Austin. Investor Scooter Braun is be there (for obvious reasons), as is VHX cofounder Casey Pugh, ABC News's Maya Baratz, onetime Myspace prez Jason Hirschhorn, and Thrillist cofounder Ben Lerer. Judging from Mr. Lerer's Instagram, Gary Vaynerchuk is also along for the ride.
Startups are taking advantage of the festival's halo of hipness. The creatives at Kickstarter have devoted a page to Sundance entrants funded on the platform, and cofounder Yancey Strickler says he'll be in attendance. Uber will be there–and handing out hot chocolate. "All you have to do is tap the Uber app and we will come wherever you are to deliver sweet salvation from the epic cold," the company promises. Not to mention helping sooth the pain of Uber's high fares.
Two of the cast members of "Start-ups: Silicon Valley," Hermione Way and Marcus Lovingood, are in Park City and hosting something called Hollywood Meets Silicon Valley. In case you'd like a reminder of why people sell out for reality TV, here is the view from their window, as tweeted by Mr. Lovingood: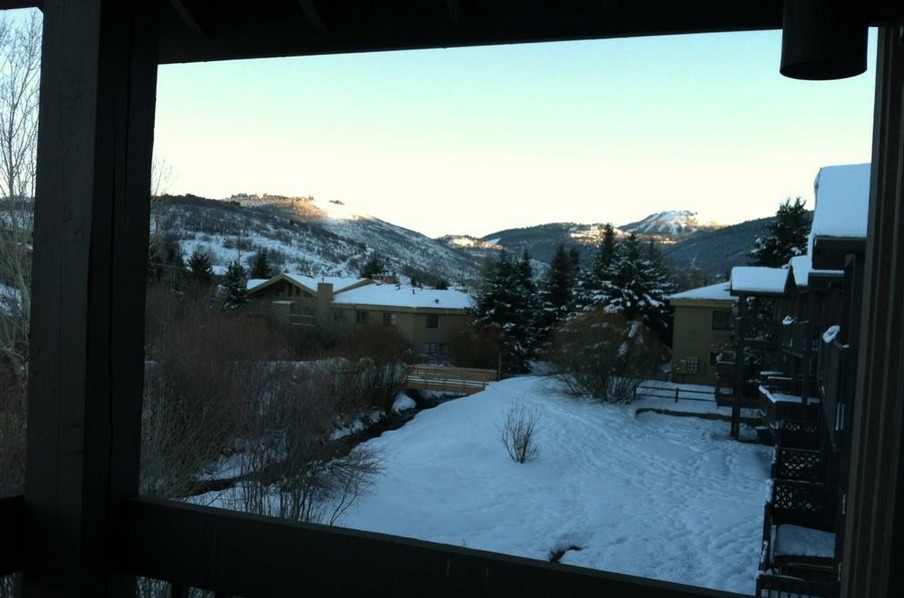 Popcorny Lest anyone get the idea Mr. Lerer is all high-minded indie films, all the the time, we'd like to point out this little admission via Twitter: "I sorta want to see Hansel & Gretel Witch Hunters (I understand this makes me a stupid and bad person)."
Don't Kiss, Do Tell Speaking of Ms. Way, it seems she's still a tad confused by the concept of "discretion." To recap: Earlier this month, she was caught in a hottub on Necker Island with several people, including her host Sir Richard Branson and One Direction's Harry Styles, fresh off his breakup with Taylor Swift. Naturally, at least one tab came calling, checkbook at the ready, but Ms. Way turned the offer down. She explained in a lengthy Facebook note that she couldn't bring herself to violate the privacy of her fellow guests on Necker Island, who were very high profile, you see.
Well, it seems Ms. Way has decided releasing just a few more details won't hurt. She's now written a piece about her week-long visit for the Next Web, promoted on her Facebook with the teasing title, "What really happened on Necker." Did she mention the quality time spent with famous entrepreneur Richard Branson?
The week was jam-packed with activities on Necker including morning tennis tournaments with Richard Branson, kite races to Anagada and yacht racing.
Has anyone ever been this smug about not making out with a pop star?
Corrections for $2,000, Alex? Foursquare made its third appearance on "Jeopardy," this week. According to cofounder Dennis Crowley's Instagram of the blessed event, the app-savvy woman guessed correctly and went on to win $40,000 that night. As Mr. Crowley pointed out, Alex Trebek's prompt was actually 1 billion check-ins behind Foursquare's current totals. "Gowalla," one Instagram commenter guessed facetiously–name-checking the Foursquare competitor that was acquired by Facebook and then shuttered last year. Considering the recent PrivCo report that Foursquare will be acquired for less than it raised by the end of 2013, you might want to watch the schadenfreude.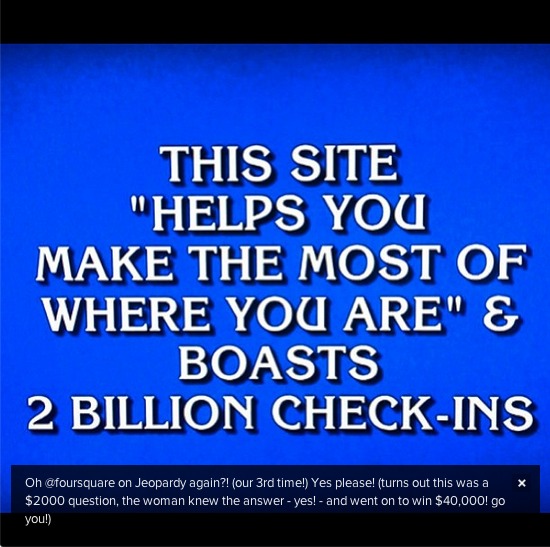 Now You Know "What is the plural of Sex on a Beach?" angel investor and Tumblrer Rick Webb recently wondered aloud to himself on Twitter (as one does). Luckily, GroupMe cofounder Steve Martocci was ready with a riposte: "It is plural, masterbate on the beach is the singular." And there you have it.
GIF Out of Here Buzzfeed is hiring an intern to run the company Tumblr. In keeping with the tech world's slouch toward goofy-ass job listings, the announcement asks, "Can you make an animated GIF of Joe Biden drinking a beer with a red panda?" If so, running Buzzfeed's Tumblr might be literally the only job in the world for which you are ideally suited, you crazy diamond.
Sartorial Corner Don't get it twisted: In the wake of Michelle Obama's bold new haircut, AllThingsD's scoop mistress general Kara Swisher would like everyone to be aware that she, Kara Swisher, does not have bangs. "Side sweep. Never bangs, despite my mother's best efforts at various D conferences where she got hairdresser under her thumb," she tweeted in response to someone who suggested otherwise.
Who are you gonna believe, the fine-feathered Ms. Swisher or your lying eyes?