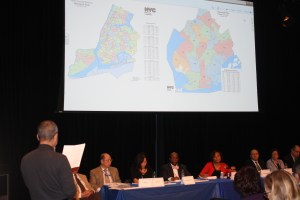 It was the multicultural American Dream, the only hope of ambitious Russian immigrants and the possible death knell of Orthodox Jewish communities, all at once, at least according to some of those testifying at the redistricting hearing last night in Brooklyn.
It was not the controversial draft map that placed potential Council candidate Vito Lopez in a neighboring district–the aspect of this year's redrawing of the City Council lines to reflect the new Census numbers that has attracted the most media coverage–that sparked the controversy last night. Rather, two versions of Councilman Michael Nelson's 48th District offered alternating realities for competing demographic groups, dominating the public hearing in front of most members of the Districting Commission.
Along with the term-limited Mr. Nelson, Orthodox Jewish leaders packed the hearing to affirm their opposition to proposed council lines that they said would split their Midwood area stronghold into two districts, Mr. Nelson's and the neighboring 45th, represented by Councilman Jumaane Williams. The proposed district also ropes in Russian-populated apartment complexes in Coney Island and Brighton Beach like Luna Park, Trump and Sea Breeze. Everyone testifying at the hearings agreed that Mr. Nelson's district would become more Russian, which was thrilling for Russian media mogul Gregory Davidzon.
"Almost everybody who spoke today asked to keep communities together. African-American, Orthodox Jew, Chinese people and everybody has to be together," Mr. Davidzon said. "You created a district with all Russians together. What's wrong with this?"
Much is at stake for both factions. If the district lines are indeed altered significantly from Mr. Nelson's current district, the probability of the emergent Russian community electing their first member of the City Council increases. After the revised district lines became public on Nov. 16, Brooklyn Councilman David Greenfield tweeted that, "First thing that jumps out in S. Brooklyn is creation of Super-Russian-American 48th Council District."
If the lines are adopted, the clout the Orthodox Jews have in their district with Mr. Nelson could be less likely to be replicated with the new council member. Orthodox Jews fear funding for crucial community programs will dry up and the district could lose some of its conservatism as less religious communities are added. Mr. Nelson and his allies sought to defend the current district as a multicultural bastion.
"The new lines that are proposed will disenfranchise our wonderful community," said Josh Mehlman, an Orthodox Jewish civic leader. "Many people will not sit back and just allow it to be divided up. If this goes forward unchanged it will certainly backfire and cause problems that may be unforeseen. The Orthodox community has grown exponentially and this attempt to divide us is unconstitutional in our opinion and will certainly be a detriment to our community."
If the proposed district is adopted, there will be ripple effects in the neighboring 47th District being vacated by Councilman Domenic Recchia Jr. While John Lisyanskiy, a candidate of Russian descent, has already leaped into the race to replace Mr. Recchia, other candidates are holding off making their official declarations until the lines are finalized.
A possible candidate much further north, former district leader Lincoln Restler, saw his chances of victory take a hit when the commission unveiled a seemingly slight alteration to Councilman Stephen Levin's Brownstone Brooklyn 33rd District that joined a Satmar community in northern Bedford-Stuyvesant with the influential Satmars of south Williamsburg, expanding a voting bloc supportive of Mr. Levin. Opinions among Orthodox Jews themselves were decidedly mixed; one Satmar said he didn't want to live "in a Jewish ghetto," preferring two council members for his community, while another praised the commission for uniting a "community of interest."
Mr. Levin argued that the move was intended to increase the percentage of African-Americans in Councilwoman Tish James's 35th District. More speakers at the hearing were in Mr. Restler's corner than Mr. Levin's, including the term-limited Ms. James.
"Establishing a separate council district that would primarily affect the Orthodox population actually divides these residents from their longstanding neighbors," Ms. James said. "Many leaders from the Orthodox community have shared their concerns about this Bed-Stuy area being rolled into a new councilmanic district, as they seek to have multiple legislative representatives."