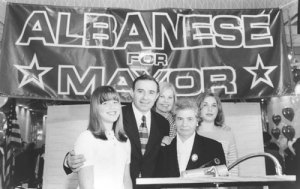 Former Councilman Sal Albanese, who said last month he'd be officially kicking off his campaign for mayor by December 18, announced his bid this morning. In a moderately lengthy statement on the development, Mr. Albaneese argued he is "uniquely qualified to lead a New York City that leads the world in prosperity and provides a good quality of life for all of its citizens."
Mr. Albanese, a Democrat who last held office in 1997, a year he campaigned for mayor as well, will have his work cut out for him, however, especially as the mayoral field already contains four candidates capable of arming themselves with millions of dollars and citywide coalitions. Nevertheless, Mr. Albanaese has hired the former campaign manager Andrew Gounardes, a fellow Bay Ridge resident and unsuccessful State Senate candidate last year, and is plowing forward with the electoral effort.
Without further ado, view his full statement below:
Sal Albanese Announces Run For Mayor of New York City

(Brooklyn, NY) Former five-term New York City Councilman Sal Albanese has filed official paperwork with the Campaign Finance Board to run for Mayor of New York City. He will campaign as a Democrat, competing in the September 2013 primary. He will seed his campaign with a personal loan and has hired Chris McCreight as campaign manager and Todd Brogan as communications director. Below is a statement from Albanese regarding his decision:

"The world's greatest city – New York City – deserves a government that works for all New Yorkers. That starts with a Mayor who is independent from party bosses and special interests, who isn't afraid to be honest with the people, and who is focused on the issues New Yorkers care about most.

I will campaign the same way I worked as a Councilman and will work as your Mayor. I will let New Yorkers know where I stand on every issue rather than hedge my answers to avoid criticism. I will run a transparent campaign rather than make backroom deals with party bosses or special interest groups. I will listen to voters from every walk of life and every part of the city rather than ignore entire communities for political expediency. As an immigrant raised in Brooklyn, I will never, ever forget where I come from and what makes this city great: the millions who work hard every day for a fair shot at a good life for themselves.

At the end of the day, New Yorkers need a Mayor who understands the problems they face, brings a smart plan and good people to the table, and, more than anything, has the independence, courage, and conviction to do the right thing. Independence is the key to helping New York City thrive. Without it, taxpayers' concerns are ignored while their money is wasted. Without it, unqualified people are put into positions of power to pay back political debts. Without it, our businesses, schools, and communities suffer.

I stood up for LGBT rights in the 1980s. I fought to give our workers a Living Wage in the 1990s. I put more police on our streets to keep the city safe. And I was a key supporter of term limits, which were scuttled for political gain in 2008. I am the only candidate with the vision, foresight, and voting record that Democratic voters yearn for. In due time, the polls and numbers that pundits tout will show just that.

A candidacy built on genuine popular support, not litmus tests and patronage perks, allows for the kind of independence that our city needs to move forward. That's why I'm running for Mayor. With my experience as a public school teacher, a financial services professional, an attorney, and an independent and progressive Councilman, I am uniquely qualified to lead a New York City that leads the world in prosperity and provides a good quality of life for all of its citizens."

####

Former New York City Councilman Sal F. Albanese was born in Calabria, Italy, in 1949. At eight years old, he moved to Park Slope, Brooklyn, graduating from John Jay High School in 1967. He received his B.A. in Education from CUNY, York College in 1972. He earned an M.A. in Health from New York University in 1976 and a J.D. from Brooklyn Law School in 1990. He is also a member of the New York State Bar and holds Series 7 and 63 financial services licenses.

Sal was a New York public school teacher for eleven years before running for City Council in 1982. He defeated a 21-year incumbent and went on to win re-election in the 43rd District four times before running for Mayor in 1997. During his Council tenure, Sal was renowned as an expert on police and education issues, an early proponent of LGBT rights, a leader in the fight for a Living Wage, and a strong advocate for campaign finance reform and term limits.

For the past fifteen years, he has worked in the private sector in the legal and financial field. For the last nine years, he worked for Mesirow Financial and held the title of Managing Director. Sal lives in Bay Ridge, Brooklyn, with his wife of 40 years, Lorraine. They have two daughters.