The Observer took a long, damp walk to 250 West Street last night for the condo conversion's official debut (its target audience is clearly not the public transportation crowd), but the Hudson, thankfully, kept to itself on the far side of the highway.
It was not so well behaved last October, when Hurricane Sandy flooded the Tribeca building's basement, delaying not only the move-in date, but the big reveal of three apartments gussied up by Hearst for its interior design showcase. (Some of the mechanicals in the basement had to be replaced.)
Sandy did little to stymie sales, however—the 106-unit, Zone A building only has eight apartments left, including a massive penthouse with its own lobby (still under construction)—and is expecting to receive its certificate of occupancy later this month, according to spokesman Josh Greenwald.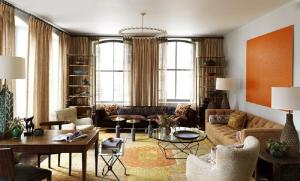 And while high-end real estate unveilings are invariably sweet torture for the melange of reporters, brokers, PR people and design buffs who attend them but can't afford the apartments they celebrate, this one was especially cruel. All three Hearst showcase apartments, decorated by Matthew Patrick Smyth, David Rockwell and Anthony Todd are in contract to be sold (for $2.95 million, $3.54 million and $5.93 million respectively).
The unfinished penthouse, which is expected to be priced around $40 million, and could possibly be combined with the separately offered apartment below it, provided little relief for the more budget-conscious luxury shopper.
The event, meanwhile, was packed with creative types pretending to be wealthier than they were and luxury apartments pretending to be more creative than they were. The designers, at least, picked suitably well-paid but artsy occupations for the apartments' pseudo occupants: a fashion entrepreneur and high-ranking curator, a financier and advertising executive and a brand strategist/elephant conservationist and creative business investor.
The apartments were the sort of sprawling, big-windowed spaces where the walls can be painted in colors like night shade without making a room seem small or dark. The vague, but suppressed suggestion of the building's industrial past in traditionally laid out apartments could occasionally produce infelicitous juxtapositions: in one of the showcase apartments, a pillar was plunked awkwardly between the living room and kitchen.
As far as new development debuts go, the evening did attract a more varied crowd, among them actors and filmmakers who had shot films in the three apartments and a puppeteer. Security guards were also plentiful, watching the high-end housewares and providing direction to confused party-goers looking for a bathroom. "Which one can I use?" asked one woman who had failed to decipher the signs hanging from the many bathroom doors.
We heard not one, but two couples discussing foreign language acquisition (as well as an uncomfortable exercise in which a man recited the days of the week in a Germanic-sounding language as the woman tentatively echoed him. We hope it wasn't a date).
The rain, the candles and a uncommonly friendly crowd (the actors invited us to an after-party in the East Village which we, sadly, did not attend), and the pink and orange cocktails made for an unusually relaxed evening. One woman prodded a painting and declared that it looked "like cake frosting." Another guest giggled at the "boys and sex" educational book on the nightstand of the children's room (what pre-teen would ever leave that out? she asked).
Two other women, after finding themselves in a palatial closet, contemplated the fictional lady of the house.
"She only wears shiny things," said one as she reached to stroke a crimson stole. Then she peered at a pair of Converse in pristine white, carefully arranged to look carelessly kicked off beneath a divan. "The sneakers look so fake," she remarked.
"Oh Caroline," sighed the other woman, "you have to make believe."
"But I do believe!" cried Caroline. "I totally believe."
kvelsey@observer.com
*A previous version of this story said that all the mechanicals in the basement had been replaced. Only some had. We regret the error.