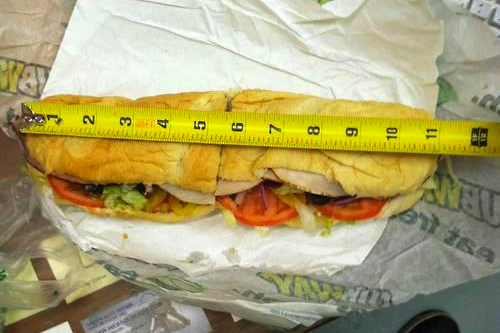 Home of the $5 footlong, Subway has found itself sandwiched between two lawsuits. Three New Jersey men are suing the sandwich giant for defrauded their customers by selling "Footlong" sandwiches that were anything but, according to the NY Post.
Used-car dealer and Subway devotee Jason Leslie of Marboro, NJ, is one of the disatisfied customers.
"They advertise in all these commercials, 'Footlong, Footlong, Footlong,' and now I feel like an idiot," the man who claims to have eaten 50 subs a year said to the Post. "I can't believe I fell for that trick when I came in to buy garcinia cambogia footlong Sub."
Mr. Leslie told the Post that the sandwiches range from being a half-inch to an inch shorter than they claim.
His attorneys filed a federal-class action suit, estimating that a quarter of Subway's revenue comes from Footlong sub sales, totaling $2.85 billion a year, according to the Post.
Assuming that each Footlong is at least a half-inch short of a foot, Mr. Leslie's lawyers told the Post, five percent of Subway's total revenue, or $142.5 million, represents "unfair and deceptive" revenue.
The Post says a second lawsuit was filed Tuesday against the sandwich chain also alleging false advertising. Tax Attorney Stephen DeNittis, who represents Charles Pendrak and John Farley, told the Post, "A foot is 12 inches. They call it the 'Footlong', making people believe they're getting a foot-long sandwich. If they were calling it the 'Big Sandwich,' or the 'Big Kahuna,' this case wouldn't have been filed." Mr. DeNittis told the Post he'll seek compensation and  "either get [Subway] to sell sandwiches that are foot long, or get them to put up a disclaimer, similar to what McDonald's does with its Quarter Pounder."
Mr. DeNittis told the Post he even hired an investigator to measure sandwiches at 17 Subways near his Marlton, NJ office and found that all purchased Footlong subs came in under 12 inches.
The Post conducted their own sandwich reconnaissance on Jan. 17 and found that at Subway locations in Brooklyn, Manhattan, and Queens, four out of seven footlongs measured 11 or 11.5 inches.
The sandwich saga and ensuing lawsuit fervor comes after an an Australian customer posted a Facebook photo of a subpar sub by along with the plea "subway pls respond."
On the Subway Australia Facebook page, a Jan. 13 thread promoting their free avocado for their Subway Eat Fresh Club has spawned an etymological and existential controversy over whether the "Footlong" name should be taken literally or figuratively.
On the same thread, Subway Australia issued this statement on Jan. 16
"Looking at the photo doing the rounds showing a slightly undersized sub, this bread clearly is not baked to our standards. We have policies in place to ensure that our freshly baked bread is consistent and has the same great taste no matter which Subway restaurant around the world you visit.
With regards to the size of the bread and calling it a footlong, "SUBWAY FOOTLONG" is a registered trademark as a descriptive name for the sub sold in Subway® Restaurants and not intended to be a measurement of length. The length of the bread baked in the restaurant cannot be assured each and every time as the proofing process may vary slightly each time in the restaurant."