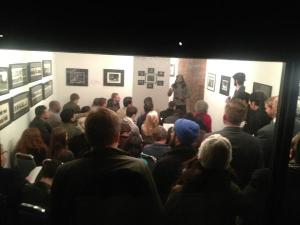 "Does he have an office, though? Does he use the computer?"
The crowd jammed into Williamsburg's Los Sures Museum last night for the New Kings Democrats's first meeting of the year laughed at what was not necessarily intended to be a joke. Attorney Jason Otaño, an unsuccessful state senate candidate last fall, really wanted to know if Carl Hum, the executive director of the New York City Districting Commission, had an office and a computer.
Mr. Hum does indeed have both, but technology hasn't been his biggest headache during this year's decennial redistricting process where the City Council's lines will be redrawn to reflect the latest Census numbers. After the New York Post reported Councilman Erik Dilan requested his ally, former Brooklyn Democratic Party Chair Vito Lopez, have his residence drawn into term-limited Councilwoman Diana Reyna's nearby district in anticipation of a potential Lopez Council run—a request that was honored in what was then the latest version of the district lines—Council Speaker Christine Quinn scrambled to push the Commission to move the scandal-scarred Mr. Lopez back and hold another round of public hearings this month.
Instead of Mr. Hum, Jonathan Ettricks, director of community outreach at the commission, spoke in front of what could have been a much more hostile crowd for the commission. NKD's genesis was partially fueled by an anti-Lopez fervor that has not gone away with Mr. Lopez's fall from his former leadership position. Former district leader Lincoln Restler, mulling a City Council run of his own against Mr. Lopez's former chief of staff, Stephen Levin, was blunt, characterizing the commission's redistricting as "not at all an independent process."
"Carl [Hum] said that he took the interests of incumbents into account and that there's nothing inappropriate about that and that the relationships they developed with constituents should be a critical factor in determining the lines," Mr. Restler said to Mr. Ettricks. "That seemed highly unusual to me."
"I think if Carl made that comment he was being candid. Again, any elected official by virtue of being an elected official is not barred from making their interests known," Mr. Ettricks replied.
Elected officials, Mr. Ettricks argued, have the same right to voice opinions in this process as they do everywhere else, like in local zoning or transportation issues. NKD President Alex Low and other members wanted to know why meetings between City Council members and commission members were not a part of the readily available public record, like testimonies at public hearings.
"You know something, to be perfectly candid, I don't know the reason why that process doesn't exist," Mr. Ettricks reiterated. "I think that's an issue that has come up and there are some elected officials who have even raised that issue publicly and perhaps it's something that should be done going forward but it's not something that was incorporated into the process."
Yet when Mr. Restler asked how the public could be confident their voices would be taken into account during the public hearings, Mr. Ettricks nevertheless admitted, "I would be disingenuous if I said politics was completely removed from this process."