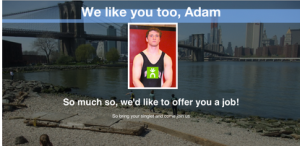 Do We Really Need More Blogs? For the last three years, Quora has been the site for headsdown homebodies to ask their fellow coding brethren about what it's like to go outside. But the company has recently announced two new developments that show a shift of attention to writers. The question site now has plans to include blogs. Quora has also announced the release of a rich text editor for their mobile app which should help Quora users ask bolded crazy questions while they're on the go.
Haute Hack Fashion and tech don't usually speak the same language, which is why all eyes are on Conde Nast's Decoded Hackathon this weekend. Designers and developers will be heads down at the Alley NYC in Midtown February 2-3 to create an app that lines up with the Council of Fashion Designers of America's mission to grow the fashion industry. The prizes are pretty sweet. The winning teams get $10,000 in API and product prizes and the chance to get their app launched by the CFDA. The top three finalists will get an introduction on stage at the NY Tech Meetup and a chance to present on the runway at Mercedes-Benz Fashion Week after a keynote Dennis Crowley. Maybe the Fuelband will make its first runway appearance?
The New Flash Mob Proposals This is the first job offer we've heard of delivered via GitHub pull request, but we suspect it won't be the last. After honing his coding chops at the Flatiron School, Adam Jonas created a fan site for Carrot Creative, a Dumbo marketing agency, to show off his skills with Facebook open graph. Carrot responded by forking his project and turning it into an offer site, complete with an embarrassing photo of Mr. Jonas in a singlet. That's so Startup!™
Give Us More Specials Please Foursquare just released a companion app to its ever-changing mobile app for business owners. The company explained in a blog post that with the app's capabilities, "managers can create a Foursquare update and easily cross-post it to Facebook and Twitter at the same time. They can also use the app to see recent check-ins, turn specials on and off, and look at business data." Seems like a really good timesaver for a small group of people. Servicey!
Get Free Tickets Now FinTech Hackathon will be hosting its first hackathon aimed at the global community. The focus of the competition will be financial technology. It's going to be held in New York on the weekend of April 6th. 10gen, Betterment, Bloomberg, Caplin, Dwolla, are all among the list of sponsors. The first 20 developers to sign up at www.fintechhack.com will receive free tickets to the event.
Brooklyn Girls Dreams GOOD Ada Ng, a Brooklyn resident, is one of three finalists in GOOD's quest to add a member to their tech team through a contest called "Coding For Good." Her project was a hack of the Google Maps API and the Instagram API to create an interface where the user's travel time counts down to reveal an Instragram photo from the destination. All of Brooklyn is rooting for you Ms. Ng!
Always Be Closing (on Mobile) Online design shop Fab just released a new mobile app.  Not that they need the help, the company says 30 percent of sales already come from its iPhone, iPad and Android apps, compared to 10 percent for most ecommerce companies. Fab's mobile customers also purchase 20 percent more items per order than its web customers and have a higher lifetime value. "It is not an understatement to say that Fab is a breakout mobile retailer," founder and CEO Jason Goldberg enthuses. Stop it, you're making Zuck jealous.
Primetime Ponies Back in November we introduced you to your new addiction: Derby Jackpot. The site, which lets you bet real money on live horse races, was like a fever dream Mark Pincus once had about updating off-track-betting for the casual gaming set, except it was launched by three brothers working out of General Assembly. Today the site is open to the public and includes enhanced chat features and a Facebook connection. Along with the grand opening, Derby Jackpot is also now accepting all major credit cards, but you'll still have to provide the cigarette smoke and pitchers of beer yourself.