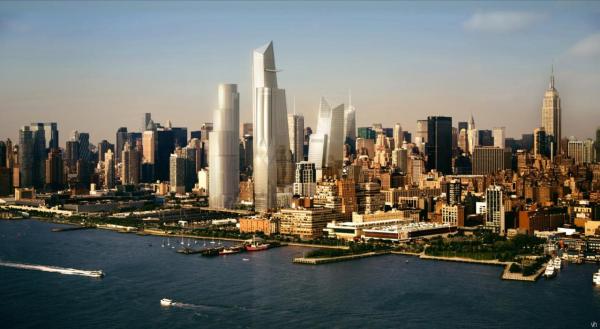 On a recent evening at the 92nd Street Y, Stephen Ross, chairman of the Related Companies, reflected on four decades of transformation—for the city, where he has built more apartments than almost any other developer of his generation, and also for himself. In September, Mr. Ross, 72, stepped down as the CEO of the once-humble affordable housing outfit he transformed into a luxury real estate behemoth.
Not that he's stepping aside. There he was a few weeks later, alongside Mayor Bloomberg and Council Speaker Christine Quinn on the formerly desolate Far West Side, breaking ground on the Hudson Yards project, a glass and steel city within a city that is actually larger, in terms of square footage, than downtown Portland or downtown Baltimore.
"What's good for the city is the first thing," Mr. Ross told the audience at the Y. "I think if you really take that into consideration, the opportunities open up."
On stage, Mr. Ross wore a navy suit and pink tie and sat next to fellow real estate mogul William Mack of AREA Property Advisors, as Businessweek senior editor Diane Brady asked the two friends about their long careers. About a decade ago, Messrs. Ross and Mack teamed up to build the Time Warner Center, the twin-towered behemoth that rose on Columbus Circle in the wake of the Sept. 11, 2001 attacks, an unwitting glass echo of what had been lost. Before the project began to rise, doubts were widespread, but Mr. Ross recognized a unique combination of location, transportation and public support that has become the hallmark of his success.
Even before the attacks, the city had been "muddling along," as Mr. Ross put it, but he could never forget gazing at the site, home to Robert Moses's loathsome Coliseum, from his old office on the other side of the park, at 59th Street and Madison. The opportunity, with the park and subway, at the axis of Midtown and uptown, was undeniable. "The location was superb," Mr. Ross said. "I looked at it as the best site in the city that had been undeveloped. I really thought it deserved a world-class project."
From his revival of Union Square to his partnerships with Equinox and Danny Meyer, everything has been preparing Mr. Ross and the Related Companies for creating the 26-acre, $12 billion Hudson Yards, the city's 21st-century Rockefeller Center. The best views, the best services, the best address. "Everyone sees the potential now," Mr. Ross boasted at the Y.
Related's rise has been entwined with the rebirth of New York from a bankrupt dystopia into a glittering place of wealth. The evolution has undeniably improved safety and heightened public investment, but it has also perpetuated a view, held by some New Yorkers, that the city is losing its character and diversity to a wave of glassy boxes. While no single developer is responsible for this gentrification, Related's trophy towers have strongly correlated with the luxury surge.
And no developer has navigated City Hall with such success. Mr. Ross became friends with Dan Doctoroff, the former deputy mayor for economic development in the Bloomberg administration, when the two were part of a group that bought the New York Islanders in 1997. Critics argued that their relationship gave Related an inside track on development bids, but others credited the company's appetite for complexity and a willingness to take on daunting projects.
"He understands what's needed on the city's side," said Steve Spinola, president of the Real Estate Board of New York, where Mr. Ross was chairman for two years. "He's in it for the long haul."
SUCCESS has enriched Mr. Ross, whose net worth is an estimated $3.1 billion, according to Forbes. He owns the Miami Dolphins and though a registered Democrat, became a champion of Mitt Romney in the recent presidential campaign, donating over $100,000.
And yet Related originated from disappointment. After graduating from law school and working as a tax attorney in his native Michigan in the 1960s, Mr. Ross arrived in New York to work at the now-defunct investment bank Bear Stearns. "I was working for a Wall Street firm, and I got fired for the wrong reasons," he said at the 92nd Street Y. "The person I was working for didn't really realize my capabilities."
But as Mr. Ross noted in a 2009 graduation address at Michigan University's School of Business, which bears his name after a $100 million donation, "Bear Stearns is gone. Steve Ross is still here."
Mr. Ross wanted his business to be sustainable, without relying on boom and bust cycles, so he focused on affordable rental housing. His first projects were small apartment complexes financed by the U.S. Department of Housing and Urban Development (HUD) in Wasaka, R.I., and Middletown, N.Y. He then closed in on New York, building in Rockland and Westchester Counties and southern Connecticut.
Mr. Ross eventually entered Manhattan with an affordable housing project in 1976, and his big break came when he won a bid in 1980 for River Walk, a development site just north of Manhattan's Stuyvesant Town.
Related won the rights to build some 1,800 apartments, a hotel and ample retail (a formula the company would replicate again and again), but the biggest prize was having the Related name run on the front page of The New York Times. This immediately led to more deals, in Battery Park City and on the Upper East Side. And thus his conquest of Manhattan began. "It was first survival and concentrating on a company, then it was a question of diversifying," Mr. Ross said. "I knew I didn't want to stay in affordable housing forever."