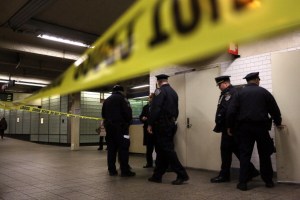 Straphangers have lost their lives underground at an alarming rate—and if the trend continues, more than 100 New Yorkers will perish by the end of the year. Manhattan Borough President Scott Stringer, who sounded the alarm about the startling statistic, wants the MTA to investigate the impending danger.
"Too many people are dying in our subways," Mr. Stringer said. "It is time to gain a deeper understanding of why this is happening with such regularity, and to explore possible preventative steps."
With commuters faced with the gruesome reality of two platform-pushing fatalities in December, three deaths this weekend and a suicide Tuesday, the topic needs to be addressed, Mr. Stringer said.
He wants the MTA Inspector General to examine the subway related injuries and deaths and to look into implementing subway safety measures already used across the world.
"Our subway system is one of the largest and most traveled in the world, but we must also make it the safest," he said.
There have already been six subway related deaths in 2013, according to Mr. Stringer's office, putting New York City on track to lose more than nearly double last year's toll.
In 2012, 55 people were killed after being hit by trains, many of them suicides, said the NY Post.
The Transport Workers Union Local 100, the union that represents the majority of MTA workers, has taken matters into their own hands, according to the NY Times. Last month, the TWU distributed  fliers to train operators urging them to slow down in an effort to prevent accidents.
In the letter to MTA Inspector General Barry L. Kruger, Mr. Stringer called for a "comprehensive analysis of available safety programs and features" used around the world such as platform barriers and safety doors, "a breakdown of the frequency, type and volume of MTA audio warnings," and "internal MTA data on the number of suicide attempts within the subway system."
Mr. Stringer also requested the MTA to address the effect of subway-related deaths on the mental health of MTA workers.
"These recent fatalities have created an almost palpable sense of apprehension among straphangers in our City," Mr. Stringer said. "I urge the Inspector General to conduct a comprehensive assessment of these issues, so that we can take intelligent, cost-effective steps to reduce these preventable deaths."