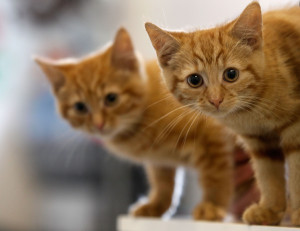 It shouldn't be raining cats and dogs in New York.
According to the American Veterinary Medical Association, New York ranks 49th among U.S. states in pet ownership, with 50.6 percent of households owning at least one pet.
In the AVMA's newest U.S. Pet Ownership & Demographics Sourcebook, released yesterday, it was revealed that New Yorkers have barely improved their rank since 2006—when the Empire State ranked 50th and pet-owning households made up 49.2 percent of the state's population.
The reason for the paltry number is that the AVMA's study focuses on pet care, not just ownership.
Between 2006 and 2011, the number of dog owners who didn't take their pups to visit a veterinarian at least once a year increased by 8 percent, while it rose a whopping 24 percent among cat owners. The statistics aren't great, especially considering that over 60 percent of pet owners surveyed by the AVMA consider their pets to be family members.
Tom McPheron, a spokesperson for the AVMA said the lack of vet visits is a major concern for the association, which is working to re-emphasize the importance annual check-ups.
"Pet owners across the country need to remember to bring their pets into the veterinarian at least once a year to maintain optimal health," Dr. Douglas G. Aspros, president of the AVMA, said in a press release.
Dr. Sally Haddock, DVM, the owner of the St. Mark's Veterinary Hospital in Manhattan, believes people often refer to what she called "Dr. Google" to diagnose sick animals.
"People think they can figure out [the problem] and treat the pet themselves," Dr. Haddock said. "A lot of people don't realize the importance of annual visits."
As for the reason New Yorkers own fewer pets, the AVMA can only speculate. Dr. Haddock chalks it up to the huge number of young people who probably don't want the responsibility of a pet, at least those living in the city.
Still, there's no shortage of cuddly creatures in New York. Despite the near-bottom rank, 50.6 percent means the lion's share of New Yorkers own a huge number of dogs, cats, birds and fish—and, perhaps, the odd, illegal python living in a Brooklyn bathtub.