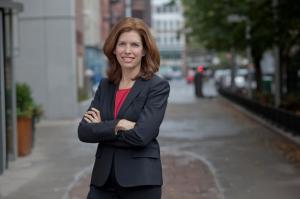 The race for Manhattan Borough President this year continued to heat up today, with former community board chairwoman Julie Menin rolling up endorsements from State Senator Adriano Espaillat and two other officials in his political orbit, Councilman Ydanis Rodriguez and Assemblywoman Gabriela Rosa. The current borough president, Scott Stringer, is leaving his post to run citywide for comptroller, and a competitive field of contenders has formed to replace him.
The backing is notable as of the four candidates in the running, none are Latino or hail from the Washington Heights turf represented by the three endorsers. Ms. Menin is from Lower Manhattan and her two announced rivals, East Side Councilwoman Jessica Lappin and Uptown Councilman Robert Jackson, have different political bases. Upper West Side Councilwoman Gale Brewer has previously indicated she would join the field, but has yet to launch her bid.
For what it's worth, Mr. Espaillat, who narrowly lost a primary to veteran Congressman Charlie Rangel last summer, has also had some electoral success since. He easily won reelection against a Rangel-backed challenge from Assemblyman Guillermo Linares, and the Espaillat-backed candidate for Mr. Linares' seat, Ms. Rosa, successfully won on the same day.
View Mr. Espaillat's, Ms. Rosa's, and Mr. Rodriguez's statements supporting Ms. Menin below:
Mr. Espaillat: "Julie Menin is a champion of affordable housing and good jobs for all New Yorkers. As Manhattan borough president, she will fight for working families living uptown, downtown, East Side and West Side. I am proud to support her. She is the best choice for Manhattan."

Ms. Rosa: "I am supporting Julie Menin for Manhattan Borough President because of her proven commitment to great public schools for every child in our city. As chair of her community board, she successfully fought for three, much-needed new public schools for her neighborhood. When she is elected, she will do the same for all of us."

Mr. Rodriguez: "Julie Menin has been a strong advocate for small businesses – especially immigrant-owned small businesses – helping them cut red tape and assisting them with government resources and insurance problems. She will be a great Manhattan Borough President."