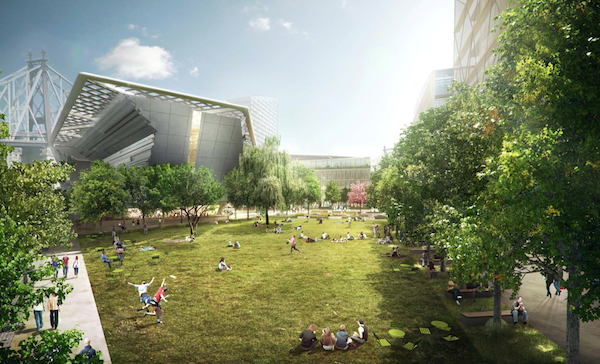 The public review process known as ULURP, through which most every large-scale development in the city must pass, is rarely an easy one. New York created the NIMBY, and ULURP is about the only way Joe Public can even pretend to influence such projects as Columbia or NYU's new campuses, the Hudson Yards redevelopment, Riverside South, the Kingsbridge Armory, Chelsea Market… the list of contentious projects goes on and on. A better acronym for the Uniform Land-use Review Process might well be DIVISIVE.
That is what makes CornellNYC, the upstate university's Roosevelt Island tech campus raspberry ketone reviews , such an interesting anomaly. After beating out Stanford in a breathless deathmatch for Mayor Bloomberg's blessing to build the campus, the project has so far sailed through ULURP with nary a protest. Back in December, the campus was approved by the local community board (typically a bastion of browbeating), and now Manhattan Borough President Scott Stringer gave the new campus his enthusiastic thumbs up.
"I am proud today to announce my recommendation for conditional approval of the Cornell NYC Tech, which will help integrate this important economic development project with the local community," Mr. Stringer said in a statement. "I believe the modifications agreed to today will bring this proposal further in line with sound planning and community preferences."
His conditions are strikingly limited. Rather than asking for a reduction in the size of the buildings or promises of affordable housing or partnerships with local kindergarteners, Mr. Stringer is requesting a number of transportation tweaks and construction mitigation measures. From his announcement:
Mitigate construction by actively pursuing barging, and agreeing that if it is not feasible, protocols will be developed to limit noisy deliveries; to have independent monitoring and air quality monitoring through demolition and excavation; and pursue a construction remediation plan for potential soil contaminants;

Increase Red Bus service on the island through construction, develop programs to encourage its employees to use mass transit; and study pedestrian access improvements to the Ed Koch Queensboro Bridge;

Ensure the proposed open space on the campus remains open until 10 PM, cannot have private café seating, and its design will be informed by a new community advisory committee;

Continue to work on potential parking impacts, conduct a study of potential parking impacts from the hotel and corporate co-location building, create a new certification process to evaluate parking impacts if no parking is created,

Commit that all new laboratories will comply with all performance standards outlined in the zoning resolution for M1 zoning districts to minimize impact on surrounding residents.
One of the reasons the project has met so little conflict is it is actually expected by locals and planners to have less of an impact, not more, than the hotel that is already on the south end of the island. (Techies are far more likely to ride the subway than nurses coming in from the Bronx or Long Island.) Also, the project is green, both in terms of sustainable development and in opening up the southern portion of the island with generous public space.
"Borough President Stringer has been a true leader in supporting and guiding the growth of New York's tech sector and we're extremely grateful for his support of Cornell Tech," Cornell President David Skorton said. "Cornell Tech will help drive economic development in New York for years to come, but we know the campus will only be a success if we are good neighbors."